1 Year Anniversary Celebration
Event Navigation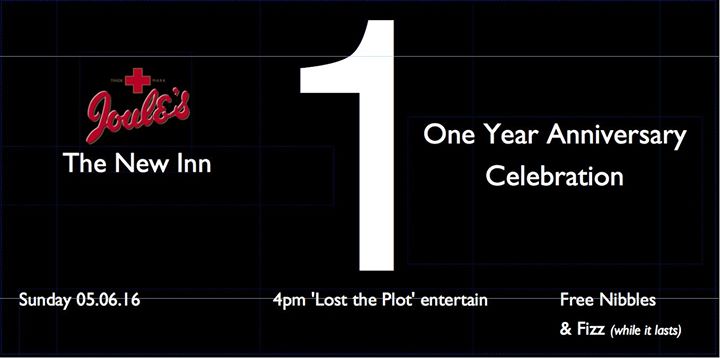 Well in just over 5 weeks time we will have got through our first year at the New Inn, what a great time we have had so far, gallons upon gallons of great ales have been consumed, vast amounts of fresh home cooked food, fine wines, a lot of Gin & Tonic and amazing live music and a general good time has been had by all!
Many thanks to you all for your support during the first year, it has been amazing and supported by so many of you! I would also like to take this opportunity to thank all of the team at the New Inn, all of the staff have worked so hard in achieving what we have so far, and for this I thank each and every one of you! At times it has stretched us to the limits, but every time we have simply got through it, mostly with a smile and a laugh (the occasional tear) but overall we have come up trumps, ensuring that everyone enjoys their time with us, a huge thanks to the team once again. And in true Oscars style, a big thank you to Joule's Brewery for giving us this amazing platform to work with and for having the trust and confidence in us to make a good old go of the New Inn.
So ….Emotional speech over, we thought it was too good an opportunity to miss, so we are going to celebrate our first year at the New Inn and we thought it would be a good excuse for a bit of a Sunday afternoon session and a celebration with old friends, new friends and friends we are yet to meet! …
Join us on Sunday 5th June during the afternoon for a drink or two, some free nibbles and the odd glass of fizz that will be floating about too!
And to top the day off our good friends 'Lost the Plot' will be performing from 4pm onwards … the perfect way to finish your weekend off in style!
Please note that since this was added to the calendar stuff may have changed.  It's not my fault, it just happens sometimes.