Adrian Byron Burns performs at the New Inn
Event Navigation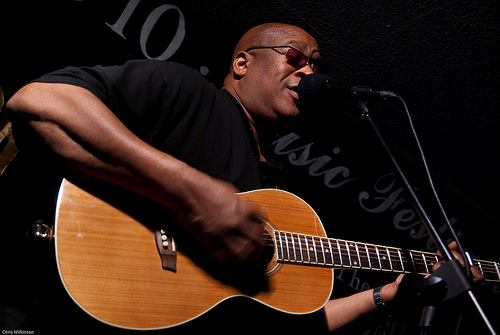 Adrian Byron Burns is considered to be one of the most exciting performers around today. In 1969, while living in his native America, Adrian opened shows for Neil Young and Ritchie Havens on the East Coast which led to a European tour in 1971 with other 'young talents'. The tour took him through Germany, Holland, Belgium, Austria, Switzerland and Scandinavia and provided the incentive for him to remain in Europe.
Late 1972 saw him as a member of a band called 'Talisman' in Germany which opened shows for Alexis Korner, Little Richard, Vinegar Joe, Curved Air and Marmalade to name just a few. He also had the chance to play with Champion Jack Dupree. Adrian moved to England in 1974 and a year later, signed a contract with Splash Records , who released thru EMI two singles (soul oriented) and an album thru PYE in 1976. That same year saw him join Jimmy James & the Vagabonds.
From 1979, Adrian's style began to emerge as he performed with musical friends from different backrounds such as Jim Mullen, Sally Barker, Tommy Chase and Mick Pini. Adrian has toured through Europe as well as Asia and the U.S. He has and continues to play in many Festivals and has shared the stage with such artists as B.B. King, Luther & Bernard Allison, Robert Cray, Charlie Musselwhite, The Dubliners, The Ford Blues Band, Marva Wright, Louisiana Red, Otis Grand, Roy Rodgers, Johnny Mars, Gregg Wright, Bill Wyman's Rhythm Kings, John Renbourne and many others. Adrian is featured on the Rhythm Kings Albums "Groovin" and "Double Bill". He has toured with them throughout the U.K. during the past two years.
He has made nine albums and for the past last years, Adrian has gained fame as a solo artist, both for his fabulous voice and for his incredible acoustic work. He has garnered praise for his compositions and for the originality of his interpretations of songs by Hendrix, Sting, Lennon & McCartney, Robert Johnson, Muddy Waters and many others.
Please note that since this was added to the calendar stuff may have changed.  It's not my fault, it just happens sometimes.