Bruce Lawson: Author of 'Charles Rolls of Rolls Royce'
October 14, 2016 @ 7:30 pm

-

9:30 pm
Event Navigation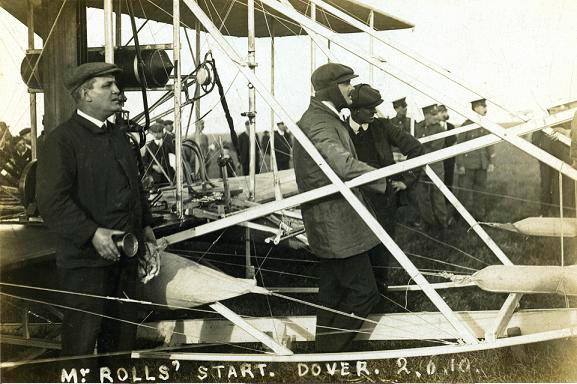 "Rolls was the Richard Branson of the Edwardian age," says Bruce Lawson. "He was a brilliant man, full of ideas. He was an adventurer – he won the second ever TT race on the Isle of Man, made 177 balloon flights and he was the first Briton to die flying his own plane. But he was also strange and parsimonious – he'd arrive at a hotel with nothing but a pair of clean socks in his top pocket. I did not have the first clue about cars, but Rolls intrigued me."
In Andrew Marr's 'The Making of Modern Britain', he describes Charles Stuart Rolls as "London driving instructor and all round petrol age adventurer" – a description that proved irresistible to Bruce Lawson and inspired him to start research on this most fascinating of characters.
Bruce decided to write the book, Charles Rolls of Rolls-Royce, because not much is known about the life of Charles Rolls despite him being the founder of one of the most renowned names in the motoring world. However, he was also a balloonist and aviator but tragically, he died again 32 years in an air crash.
Bruce said "in 1900, Charles was the best known motorist in Britain, he was also the most popular man in Britain and I just find it crackers that people know so little about him". He admits that he knew very little about cars however, after the three years that it took to write the book, he now knows a lot more than he did! In fact, he has since brought a Rolls Royce.
He received assistance from people all over the world in gathering information for the book and the foreword is by Lord Montagu – the only other author to write a biography of Rolls. It proved to be a fascinating voyage of discovery, often through papers never previously researched.
"Writing the book was a real adventure but one I thoroughly enjoyed. I do think people are going to be interested, 15,000 people in the UK own a Rolls-Royce, so there is definitely a market for it" said Bruce.
We are delighted to welcome Bruce to the Wellington Festival as he continues his series of sell-out lectures on Charles Rolls.
Please note that since this was added to the calendar stuff may have changed.  It's not my fault, it just happens sometimes.