Doug Richards 'Running Hot & Cold'
October 16, 2016 @ 7:30 pm

-

9:30 pm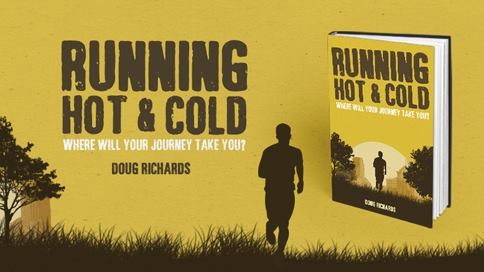 Running Hot & Cold, the story of Doug's belated
introduction to running, recently won the Silver Trophy in the Best Book category at the prestigious 2016 Running Awards.
It's now a common sight to see people of all ages and abilities running through our towns, parks and rural areas; but it can still be surprising where the running journey can take us. Doug Richards was indifferent to exercise until, approaching his middle years, he became increasingly aware of his declining fitness. So Doug took up running. Rather slowly at first; but he made steady progress. Follow Doug's journey – overcoming modern-life obstacles including a marriage breakdown, work-related stress, anxiety and depression – from that very first one-mile run to marathons at home and abroad. And so on to wider and wilder horizons. How do you prepare for running 140 miles across the Sahara Desert? How does a bus-pass-bearing pensioner stay upright running on Greenland's polar ice-cap? Read of a confrontation with elephants in South Africa, puddles in the desert in China and the emotional rollercoaster of running in tsunami-ravaged Sri Lanka.
The book also documents how running has helped him
through some of the more challenging episodes in
his life, including bouts of anxiety and depression,
Doug has recently been appointed as a local Mental
Health Ambassador by England Athletics as well as
having a role as a Run England Group leader with
local running groups. He is also involved being an
active runner and volunteer for parkrun.
REVIEW – "RUNNING HOT AND COLD"
I found this book almost unputdownable. Yes, I agreed with all Doug's friends and neighbours, his doctors and even the voice inside his own head who all told him he was mad to drive his body to increasingly agonising limits on his global marathons and super marathons. Yet the narrative explained coolly and lucidly how someone could find such actions a necessity. Most of us would not contemplate putting our bodies through these tortures, but here we have a dramatic account of what, when your whole body pleads with you to give in, might still urge you to complete the challenge. Indeed it seems that the more daunting the challenge, the more hazardous the terrain and the climate, the more attractive the project is to Doug.
Besides accounts of the many obstacles, expected and unexpected, which Doug encounters and obstinately, ingeniously overcomes, on his world wide "travails" there are many additional pleasures in this book. There are up close and beautiful descriptions of the Sahara, Siberia, Sri Lanka and Africa where he encounters the elephants whose rampage opens the book – and almost closes it. There are the close friendships to study, forged in a mutual struggle with the vagaries of nature, and heartwarming encounters with people in their local communities on many continents.
We are also invited to witness a life. Doug takes us back to his childhood before he ever thought of running and we follow him through his life, with all its interests, its plans, sudden reversals and coincidences driving the action forward.
The book delivers an overwhelmingly positive message that what most plagues you in life may be turned into a challenge and indeed a huge advantage to yourself and others.
Highly recommended.
Please note that since this was added to the calendar stuff may have changed.  It's not my fault, it just happens sometimes.