From Denmark, Martin Dale Entertains.
April 9, 2017 @ 6:00 pm

-

9:00 pm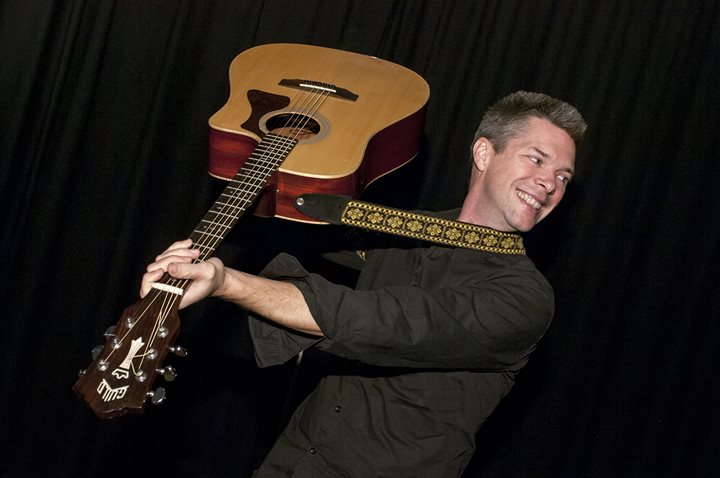 Singer, guitarist and entertainer Martin Dale, based in Denmark, combines musical proficiency, natural showmanship and an abundance of energy into a crowd pleasing one man show that, while aimed at pub audiences, fits any occasion. With over 20 years of performing experience playing in bands and solo at venues big and small in Britain, Norway, Sweden, Denmark, Poland, Turkey, France, Germany and The Faroe Isles, he has the confidence to make close contact with any audience.
He's released 2 solo albums, the latest being "A Different Kettle of Fish" in 2015. When not performing solo he is part of Folk duo "Strong Ale", plays bass in "Neil Brophy Band" and "Aliens!" as well as other projects. Way back in his wild youth he was part of the popular duo "Rumpus". He rarely comes over to Britain to perform now except for regularly appearing at Glastonbury Festival, where he is compere for the John Peel Stage.
Specializing in British and Irish folk songs, he also has a repertoire of over 600 pop and rock favorites from artists such as The Beatles, Robbie Williams, Queen, The Stones, Springsteen and many many more along with his own purpose built compositions.
Democratic to the extreme, and able to be a kind of human jukebox, his shows often end up improvised around audience requests.
Unlike many other performers, he moves around a venue using wireless technology to make active contact with the audience, using humour and props to break the ice. As well as playing guitar, singing and persuading people to drink he performs an assortment of other (sometimes rather untraditional) instruments such as harmonica, tin whistle, vacuum cleaner, bouzouki, bar tray, beer bottles etc.
Most of all Martin delivers music people like with a big friendly smile.
Please note that since this was added to the calendar stuff may have changed.  It's not my fault, it just happens sometimes.