Fun & Free Latin Dance Day!
September 4, 2016 @ 2:30 pm

-

9:30 pm
Event Navigation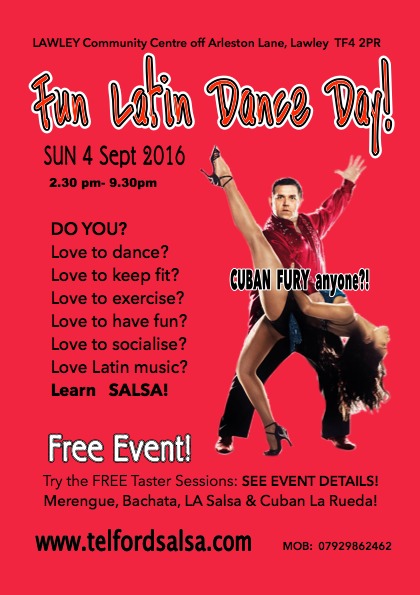 FREE EVENT!! Telford salsa classes will be start ing in September at Lawley community centre as this is more central for most local folks and easy for others to find from the M54. To launch the new night and the new venue, there is a Free afternoon and evening event for all comers!! Dance has been proved to be one of the best ways to get fit, keep fit and stay healthy so if you hate the gym then this may be for you.
You can come just for the afternoon or just for the evening but it will be more fun if you come for the whole event! Bring food as you will need it and a small contribtion for the sharing table too if possible. There is a ktichen on site so tea, coffee and soft drinks will be available. You are welcome to bring your own alcohol and will need to bring glass unless drinking from a bottle!!
So if you are curious about salsa and always wanted to try it, this is a fabulous opportunity to come and find out why it is so popular and is totally FREE, so dont miss out! It is a special one off event with five different sessions on offer for beginners, so you will learn some basics in time for the social dancing in the evening. Salsa is a mix of dance genres, is great fun and you will find out why we love it so much! If you enrol at the event for the regular weekly classes, which start the following week on 11 Sept 2016, then this next class is free too.
You dont need a partner, sequins or special shoes; salsa is a perfect way to keep fit, meet people of all ages, from all sorts of diverse backgounds and make new friends. Those with two left feet or no sense of rythmn also welcome! Come with a smile, just be willing to have a go and simply enjoy yourself. It's a great way to spend an evening!!
Experienced dancers are very welcome to come and help out with the classes too and/or refresh your skills. If you have been suffering with withdrawal symptoms this is a chance to feed your addiction, catch up with friends after the holiday plus try out the new venue! Formal classes with Sylvie and new team member, James Hearle, will be re-starting the following week at 6.45pm prompt please
FUN DANCE DAY TIMETABLE
Each session lasts between 30 -40mins followed by short breaks.
AFTERNOON:
2.30pm: Doors open
3.00pm: Merengue (Dominican Republic)
4.00pm: Bachata (Dominican Republic)
5.00pm: Salsa Basic steps (Cuban & Crossbody)
6.00pm: Leading & Following (Crossbody)
6.30 – 7.30pm: TEA TIME! Tea, coffee & squash available. Bring snacks if staying for the whole day and/or small contribution for the sharing table always appreciated!
EVENING:
7.30pm: Basic La Rueda for all (Cuban)
8.30pm: Salsa Line Dance & Freestyle dancing
Full details on other classes, workshops, party nights, special events plus directions for venues can be found on the website @ http://www.telfordsalsa.com or call the mobile: 07929862462
Please note that since this was added to the calendar stuff may have changed.  It's not my fault, it just happens sometimes.