Lesley Smith As Katherine Swynford
October 27, 2016 @ 7:30 pm

-

9:30 pm
Event Navigation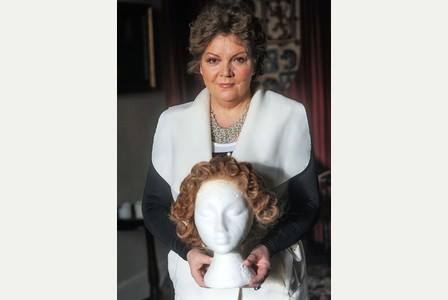 Katherine Swynford was John of Gaunt's mistress and wife. Lesley speaks in the year 1399 as Duchess of Lancaster in a spectacular costume of the period.
The Katherine and John story is one of the greatest love affairs recorded in English history. Their descendants would go on to be every monarch of Scotland and England up to the current day, including her Majesty, The Queen.'
ABOUT LESLEY SMITH
Lesley Smith is curator of Tutbury Castle in Staffordshire and essentially an English Reformationist Medical Historian and is currently writing up her PhD at Birmingham University attached to the Unit for the History of Medicine. The PhD is titled "Conception in Reformation England". She is supervised by Birmingham University and The British Museum. Lesley also holds an honorary Masters degree for "services to history in the community" awarded in 2007 and recently she has been accepted within the Guild of Apothecaries of London.
Recognised as an authority in her field she has lectured across the world including the Royal Society in Edinburgh for The Scottish Parliament, The Royal Society of Medicine, The Royal College in London and Cambridge University Medical School. She has eighteen academic publications in her name and her recent published work about the private life of Mary Queen of Scots was reported in The Times, The Telegraph and The John Humphries Show on Radio 4.
Lesley has appeared in over 100 television programmes in the last 5 years going out to 47 countries and gives national radio interviews also across the globe including Radio South Africa and Australian national radio.
Nature of Studies:
Lesley is primarily an English Reformationist Historian studying the reproduction and gynaecological lives of women. This is a challenging field as the study of women is fragmented and also much of the research is about the private lives and examines often forbidden knowledge at a time when women were very largely uneducated.
Television Appearances:
The Final Days of Mary Queen of Scots (2015)
The Hour (2011)The One Show (2011)
In Bed With . . . (2009)
Most Haunted: Midsummer Murders (2007)
Most Haunted (2002, 2006-10)
The Worst Jobs in History (2004)
The World's Biggest Ghost Hunt (2003)
Predictions With Derek Acorah (2001)
Public Speaking:
Lesley is one of the most prolific public speakers in the UK with close on 300 performances a year – usually in costume. She speaks to audiences form 80 to 1100 for professional, corporate and general market.
Trivia on Lesley:
Lesley modelled for a statue of 'The Immaculate Conception' and the 12 foot bronze statue can be seen on a Catholic church of the same name in Bicester. The sculptor was Mark Delph. Lesley used to model for wool patterns at the age of 4.
Please note that since this was added to the calendar stuff may have changed.  It's not my fault, it just happens sometimes.