Race for Life
Event Navigation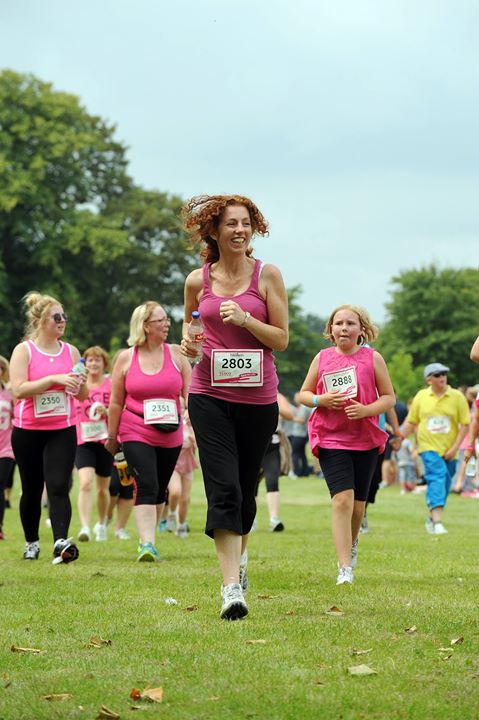 TELFORD women fired up by the arrival of spring are being urged to channel their energy into training for Cancer Research UK's Race for Life.
Now the lighter evenings are here, and with warmer weather on its way, women of all ages, shapes and sizes have the perfect opportunity to kick-start a healthier lifestyle by preparing for their 5k or 10k Race for Life event.
By taking on Race for Life, and encouraging their mums, daughters, sisters and friends to join them, participants can improve their fitness as well as help to raise money for life-saving research.
Becoming more active has longer-term benefits, as research shows that even regular, moderate physical activity can help reduce the risk of cancer. Not only does it help to maintain a healthy body weight but it also has a protective effect in itself.
And that's why Cancer Research UK is calling on women in Telford to get moving, lace up their trainers and sign up now for the 5k or 10k event on Sunday, May 22 at Telford Town Park.
Danny Farrington, Cancer Research UK's Telford Event Manager, said: "Race for Life events are not competitive. They are not about being fit or fast. It's about an army of women crossing the finish line together in the fight against cancer. Whether you're a running pro or novice, every step you take around the course will help bring us one step closer to the day when all cancers are cured.
"The atmosphere is incredibly supportive and pledging to take part, alongside thousands of like-minded women, is a great motivation. With fire in their bellies and trainers at the ready, we know that Telford ladies are up for the challenge."
Cancer Research UK's Race for Life, in partnership with Tesco, is an inspiring women-only series of 5k, 10k, Pretty Muddy and Marathon events which raises millions of pounds every year to fund research to help beat 200 types of cancer.
Last year, 1,493 women took part in Race for Life in Telford and raised a fantastic £89,126. This year, organisers need 1,700 women and girls to rally together to help raise £100,000 for vital research.
More than one in two people in the UK will be diagnosed with cancer at some stage in their lives, but the good news is more people are surviving the disease now than ever before. Survival rates have doubled since the early 1970s.
Money raised through Race for Life allows Cancer Research UK's doctors, nurses and scientists to advance research which is helping to save the lives of men, women and children across Shropshire.
To enter Race for Life today go to raceforlife.org or call 0300 123 0770.
Please note that since this was added to the calendar stuff may have changed.  It's not my fault, it just happens sometimes.