Sue Crampton: A Talk Introducing Edith Picton-Turbervill 'First Female MP for the Wrekin'
October 17, 2016 @ 7:30 pm

-

9:30 pm
Event Navigation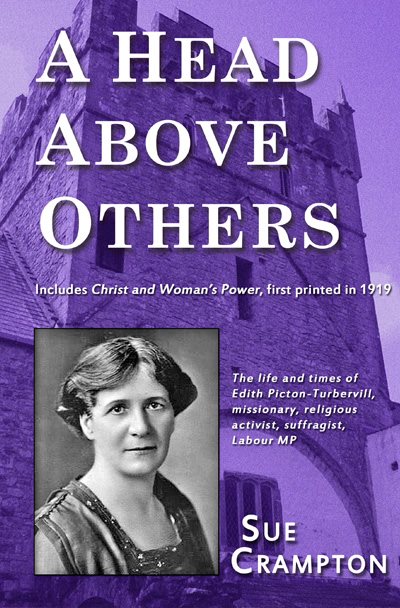 A Head Above Others – by Sue Crampton.
This book is about Edith Picton-Turbervill, who towered above others in stature and achievements. Like many Victorian women who devoted themselves to others, she has been forgotten by history. The courage, independence of mind and achievements of Edith of Ewenny so impressed Sue Crampton that she was inspired to write this tribute. Her research led her to explore and then to record Edith's life in this diary, tracing her life from her roots in Wales to her achievements on the international stage.
Edith of Ewenny
At over six feet tall, Edith Picton-Turbervill was literally a head above others and ahead of her time. She forged an independent life, firstly as a missionary with the Y.W.C.A., secondly as their Vice President and lastly as one of the first female Labour Members of Parliament in 1929.
Incredibly, she was elected by the mining constituency of Wrekin (now Telford), although her family were coal owners from South Wales! She had the distinction of being the first woman to preach at a statutory service in the Church of England, but she never accepted the position and treatment of women by the Church.
Christ and Woman's Power
Published in 1919 and reprinted in this volume, in Christ and Woman's Power Edith argued her case for women priests and described the pioneering work of women in areas of public life. The struggle still continues for women bishops!
Sue Crampton taught English in Asia and Africa, ran her own supply teaching agency, and helped run a walking holiday business in Catalonia. Inspired by her love of history, she has written stories about the Spanish Civil War. Now living in France, she has set up the Limousin Writers' Group and The Correze English Library. Sue hopes that Edith's life will now receive due respect – and not merely be commemorated by the names of two cul-de-sacs.
Please note that since this was added to the calendar stuff may have changed.  It's not my fault, it just happens sometimes.