TACT Auditions: Macbeth
September 7, 2016 @ 7:30 pm

-

10:00 pm
Event Navigation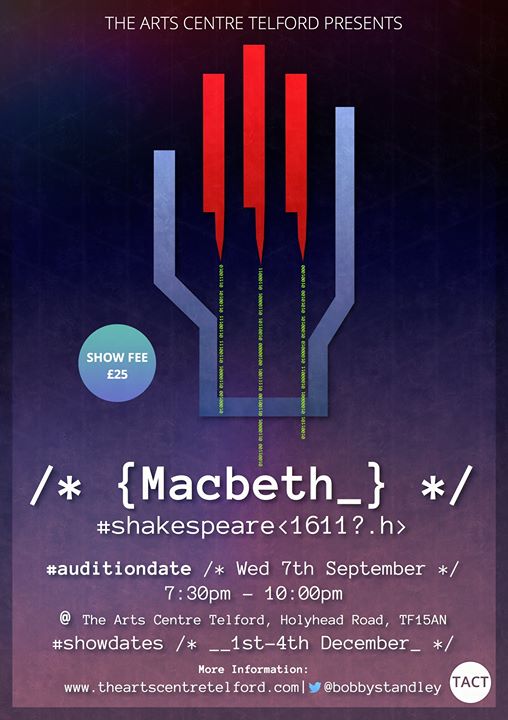 Autumn Term 2016
Macbeth Director: Bobby Standley
MACBETH – For performers: Year 9 and above.
The title role is Shakespeare's most brutal and poetic creation and the play his most unsettling engagement with the supra-natural and the nature of evil. Enter the unique intensity of Shakespeare as this cycle of wondrous horrors captures our imagination once again…
SYNOPSIS
On a barren heath, three sisters tell the great and bloodied Macbeth that he is fated to be King of Scotland. And so begins a terrifying series of events that lead to the murder of Kings, friends, mothers and their children. Macbeth and his Lady fall prey to a soul-corroding guilt as they desperately try and cling to the defiled crown.
REHEARSALS
Rehearsals will take place on Wednesdays (and some Sundays listed below) at TACT, Holyhead Road, Ketley. Wednesday rehearsals are from 7:30 – 9:30pm. Sunday rehearsals are from 2 – 5pm.
Wednesday Rehearsal Dates:
SEPTEMBER: 14th, 21st, 28th OCTOBER: 5th, 12th, 19th, 26th NOVEMBER: 2nd, 9th, 16th, 23rd
Sunday Rehearsal Dates:
NOVEMBER: 13th, 20th, 27th
Show Week Dates:
Technical Rehearsal: Tuesday 29th November 6 – 10pm @ TACT Dress Rehearsal: Wednesday 30th November 6 – 10pm @ TACT
Performance Dates:
Thursday 1st December @ 7:30pm Friday 2nd December @ 7:30pm Saturday 3rd December @ 7:30pm Sunday 4th December @ 7:30pm
AUDITIONS
Wednesday 7th September @ TACT Auditions begin: 7:30pm
Auditions end: 10pm
You will be required to register and pay your membership fee in full before you will be able to audition. Unfortunately, delayed membership fees cannot be accepted.
You do not need to prepare anything for the auditions – you will take part in a workshop and be asked to showcase your performance ability and talent during the course of the audition session. Please ensure that you wear black clothing, preferably TACT uniform, and trousers/shoes suitable for movement and stage work.
PROJECT FEE
One-off £25 project fee, payable in advance of auditions on Wednesday 7th September.
ENQUIRIES
You can get further information about the show or membership of TACT by emailing bobby@theartscentretelford.com.
Thank you for your continued support and we look forward to working with you and your child(ren) in the future.
Bobby Standley Ross Doodson Ruth Standley TACT PRODUCERS
Please note that since this was added to the calendar stuff may have changed.  It's not my fault, it just happens sometimes.