West Side Story Auditions
June 11, 2017 @ 10:00 am

-

4:00 pm
Event Navigation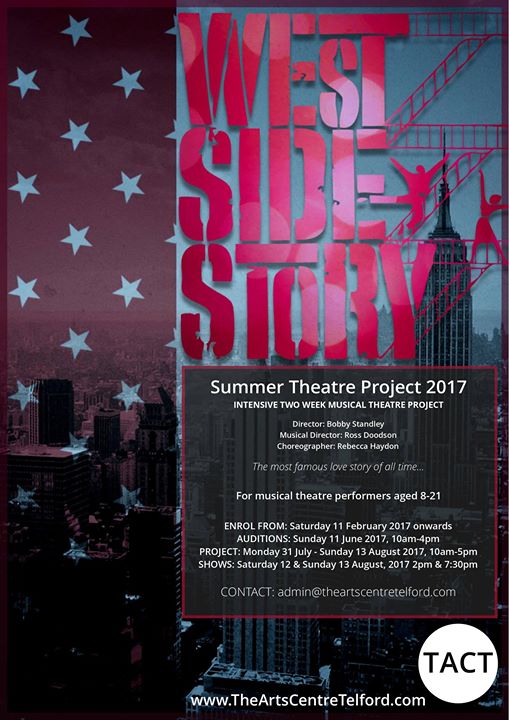 TELFORD SUMMER PROJECT 2017
WEST SIDE STORY
Director: BOBBY STANDLEY
Musical Director: ROSS DOODSON
Choreographer: REBECCA HAYDON
AN INTENSIVE THEATRE PROJECT, CULMINATING IN A FULLY STAGED MUSICAL WITH A LIVE ORCHESTRA, IN AUGUST 2017.
31st July – 13th August 2017
Are you aged 8-21? Do you love singing, acting and dancing?
Would you like to be part of Telford's Summer Project this year?
WEST SIDE STORY – For performers aged 8 to 21 One of the best known and most influential musicals of all time, West Side Story was an artistic masterpiece collaboration between Leonard Bernstein, Stephen Sondheim and Arthur Laurent. This epic musical was inspired by Shakespeare's Romeo and Juliet.
PROJECT FEE
The project fee is £225. You can sign up and pay to join the project from Saturday 11th March 2017.
EARLY BIRD DEAL: Performers who sign up and pay their membership fee by Sunday 23rd April will receive a discount and they will only need to pay a £200 project fee.
Performers are required to pay the audition fee in full before they audition and unfortunately we will not be able to audition anyone who has not paid their project fees.
The minimum number of participants required for the project to run is 30. Unfortunately, if 30 performers are not signed up on the first day, we will not be able to continue with the production and you will receive a full refund.
AUDITIONS
Sunday 11th June 2017 @ The Arts Centre Telford, Holyhead Road, Ketley, Telford. Registration: 10am Auditions begin: 10:15am Auditions end: 4pm
You do not need to prepare anything for the auditions – you will take part in a workshop and be asked to showcase your performance ability and talent during the course of the audition session. Please ensure that you wear black clothing, preferably TACT uniform, and trousers/shoes suitable for dance.
REHEARSALS
Monday 31st July – Friday 4th August: 9am – 5pm @ TACT
No rehearsals on Saturday 5th or Sunday 6th August.
Monday 7th – Wednesday 9th August: 9am – 5pm @ TACT
Thursday 10th August: 1pm – 9:30pm @ Oakengates Theatre
Friday 11th August: 1pm – 9:30pm @ Oakengates Theatre
SHOWS
Saturday 12th August – 2:30pm & 7:30pm
Sunday 13th August – 2:30pm & 7:30pm
ENQUIRIES
You can get further information about the Summer Project by emailing admin@theartscentretelford.com.
Thank you for your continued support and we look forward to working with you and your child(ren) in the future.
Bobby Standley Ross Doodson Ruth Standley
TACT Proprietors & Company Directors
Please note that since this was added to the calendar stuff may have changed.  It's not my fault, it just happens sometimes.