Restart a Heart Day – First Aid Training – St John Ambulance
Learn free life saving skills in Shropshire with St John Ambulance for Restart a Heart 2018
St John Ambulance volunteers in Shropshire are giving free demonstrations of life saving skills as part of the Restart a Heart campaign this October.
Working with the Resuscitation Council and other partners, St John Ambulance aims to give more than 200,000 the ability to help someone who has gone into cardiac arrest.
The Telford training will be held at Telford Cadets, off Haybridge Road, Wellington, Shropshire, TF1 2TU –on Wednesday October 17 from 7 to 9pm
The hour-long session is free to attend and includes practical information on how to give cardiopulmonary resuscitation (CPR) and deliver shocks to the heart with a defibrillator.
Currently, only one in 10 people in the UK survives a cardiac arrest out of hospital; St John Ambulance and its Restart a Heart partners want to change that. Chances of survival double when someone gives immediate CPR and significantly increases further when a defibrillator is used.
St John Ambulance's District Manager Greg McKeown said: "We're really pleased to be participating in this year's Restart a Heart campaign.
"A cardiac arrest can happen any time and without warning so we're looking forward to sharing knowledge of first aid techniques so that more people can step forward when confronted with a heart-related emergency, making communities safer.
"Come and see us at our Restart a Heart events and we'll show you what to do in a cardiac arrest situation and how to use first aid combined with a defibrillator to improve someone's chances of survival."
To join the conversation on social media, search for #RestartaHeart and to find out more about the campaign, including a full list of demos visit www.sja.org.uk/restartaheart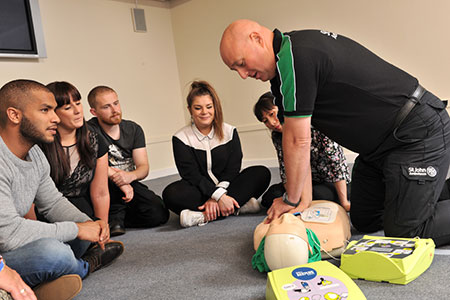 Restart a Heart Day – First Aid Training – St John Ambulance
We're supporting Restart a Heart Day 2017, a Europe-wide campaign to teach young people life saving CPR skills. Request a trainer to teach CPR at your school and learn how to restart a heart. Read more about our in-depth first aid training courses for schools.