Week 3: Sunday Night Sideways
Week 3: Sunday Night Sideways
An irreverent look at local politics in the run up to the election on May 2nd. You are registered to vote, aren't you?
A closed shop?
If you were keen on becoming a Councillor, not aligned to any political party but wanted to find out more, you'd probably think that the Telford & Wrekin Council website is a great place to start, right? Wrong. The Election page still has a coming soon message. First rule of Councillors club, don't talk about how to join councillors club.
It's now 24th of March, I have it on good authority that nominations have to be handed in, in person, by 4pm on the 3rd April. You got about 10 day to get your pack and get your shit together.
Can anyone keep up with T&W pre-election cash bonanza?
It's like we won the lottery. Well, some of us anyway. And not everyone is entirely happy. One Parish Council, Lawley & Overdale, is grumpy that the local parish councillors have not been consulted on their share of the £500k windfall. I checked their meeting minutes for February and the Agenda for March and there is nothing that suggests they were notified of the cash about to drop, nor asked about what to spend it on. Further reading here: https://lawleyoverdale-pc.gov.uk/2019/03/19/new-500k-community-fund-concerns-raised-by-residents/
The Lightmoor share of the £500,000 might go some way to getting the residents more politically engaged. Turnout was just 17% in 2016. The lowest in any UK Council election, ever according to the Electoral Commission. Labours Cllr Raj Mehta was victorious by just 66 votes, gaining the previously Conservative held ward. The UKIP vote was 124, and with no candidates from UKIP standing here this time, it's a ward to watch.
One wonders what the rush is to get the publicity about the money so quickly. Is there an election looming?
Lib Dem Resurgence.
The Lib Dems have been a laughing stock of politics in Telford at General Election time. Who can forget (you have, haven't you?) the 2017 candidate Susan King who appeared to claim that plastic made you gay during a Shropshire St*r web chat. That was the last we saw of her until she came to the count. Locally, Cllr Bill Tomlinson consistently went down well with the voting public during my council meeting broadcasts, 'the voice of reason' being used to describe his contributions more than once.
According to my sources we could see 15 Lib Dem candidates fielded in wards across the borough. In 2015, the 6 Lib Dem candidates polled just 2667 votes. I'm predicting that the Lib Dems will put in a better shift this time around.
Lies through the letterbox.
My virtual postbag has been inundated with five pieces to share with you.
The merger that will never happen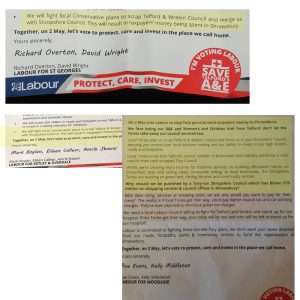 I'll start with the most troubling. Labour appear to be in the middle of a direct mail campaign and one of the bulletpoints is the much discussed 'Tories Shropshire & Telford Council Merger'.
It transpires that someone is not being truthful with these claims, and I'd like you to decide who that is. You can see Labours claims in the photos attached to this post. It's not a candidate that's gone off-piste, because I've seen the claim on multiple letters.
"We will fight local Conservative plans to scrap Telford & Wrekin Council and merge us with Shropshire Council. This will result in taxpayer's money being spent in Shrewsbury"
Facts:
Leader of the Conservatives, Cllr Andrew Eade mentions that a 'Single authority' could be looked at. This was in May 2013.
A motion against a full merger of the two councils was tabled by Conservative group leader Andrew Eade at the full Telford & Wrekin Council meeting in May 2014.
In February of this year, Cllr Eade said 'We put forward two motions saying a merger shouldn't and mustn't happen, we're two very different communities.
Not enough facts?
In 2017, leader of Telford & Wrekin Council, Cllr Shaun Davies met with the Conservative leader of Shropshire Council and said this ' "We both recognise the differences between our councils, the areas and populations we serve.
"However, there will continue to be opportunities to co-operate very closely because this is the right thing to do to ensure that we deliver the best and most effective services possible for our residents.
"Just as in Shropshire, we have absolutely no appetite for merger with any other council"
Most telling, is that in 2016, Cllr Shaun Davies said 'This issue has been regularly aired and is firmly rejected by both councils, precisely because we represent very different areas. This has cross party support on this council. "
Cross party support. I have asked two of the Labour Cllrs and prospective Labour Cllrs making this claim about the merger and not had a response. Caught out? You decide.
There is no appetite for a merger. Not least from you, the good people of Telford. It's just not going to happen.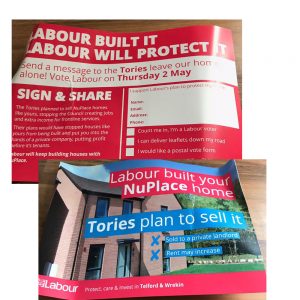 Nuplace.
In a targeted mailing, Labour have sent a letter to Nuplace tenants. Nuplace is the wholly owned property development subsidiary of Telford & Wrekin Council. In the leaflet, Labour claim that should the Tories win, rent may increase.
Fact: In the business case for NuPlace, the rents are set to increase by 1.75% per annum. Whatever happens, the rents will increase.
About now, Labour voters are considering playing the bias card. So I'll share the only piece of Conservative literature I've had this week.

Cllr Adrian Lawrence needs a bigger portfolio
A recent convert to twitter, serving T&W Councillor has taking to the platform like a boss. Starting in January this year with a bold claim that Labour are considering charging for parking in the Borough Towns. This was quickly shot down in flames as Cllr Shaun Davies offered to resign if that happend. Indeed in Wellington, the free ticket machines were championed by the Tories and Labour in an effort to solve the parking problem.
If that wasn't enough Fake News, Cllr Lawrence has use the same 'I'm out canvassing' photo no fewer than three times. Once in Jan, once in Feb and once in March. Room for more? He also tweeted a pic of Mark Pritchard MP out canvassing that he said was taken just before Christmas. He used that pic once in Jan and twice in Feb.
Won't someone get this Cllr a camera phone so he can take pics each time he goes out?
Interview with Cllr Connor Furnival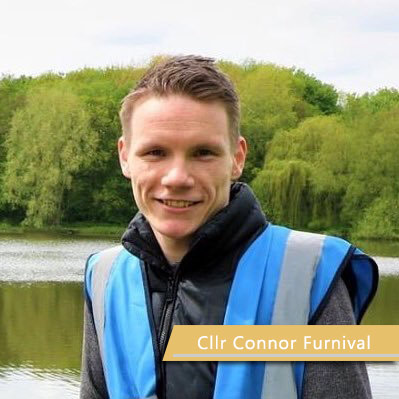 Cllr Connor Furnival is standing for re-election to the Borough Council in The Nedge.
First elected as a Councillor in 2015 – probably the youngest T&W Councillor ever – Cllr Furnival famously polled the same number of votes as Harvey Unwin, and after several recounts, the seat was decided by drawing straws. They don't come closer than that!
-What got you interested in politics?
Honestly, growing up in Telford I wasn't the most well-behaved child in our schools and I caused a lot of trouble for teachers, community centre workers etc but they never gave up on me right to the bitter end. And I left with no GCSE's and an enormous amount of regret. Since then I've had to work tirelessly to rebuild a future for me, starting out as a part-time cleaner working 6-8am and studying at college from 9am-4pm and getting extra studying done on my days off college. I've since gone on to work some tough jobs in the most unsociable hours to make something of myself. I stood to be a Councillor because I wanted to be a decision maker to make sure we as a Council make the right decisions that offer support to children like I was and families like mine on low incomes. As a child, I think teachers, social workers, peers and so many in Telford gave me so much, and as an adult it's only right that I give back.
-Having filmed the Council Meetings for a few years, the procedures and processes do seem very confusing. What was your first meeting like as a Cllr?
I had almost no idea what was going on, weather I was supposed to stand, sit, sing or wave… I had no idea! It took a few meetings to understand the procedures and right was mainly done by much reading of the councils constitution and watching Telford-live Council videos. I've learned that the key to any meeting is preparation, much reading and understanding what your voting on fully. What I do on hot topics is discuss the votes with some of my residents, this helps me decide what's right for my residents. I'm still convinced most of us still have no idea and are confused and just make it up as you go along though.
-Over the last 4 years, what has been your greatest achievement?
That's a difficult question because I wouldn't want to take any merit away from other achievements. Some I'm most proud of is forming the project of installing communal planters in unused spaces in the ward, fully funded by my Councillor fund and built by volunteers and Parish Council staff. This idea has sparked more to be installed so I'm happy it's clearly worked. There are so many parking spaces and paths now resurfaced, bus stop installed, green spaces better managed and better road signage thanks to my "constructive moaning" and I'm particularly happy with the creation of the Friends of Holmer Lake and what I have been able to do to create the group and improve the area in my role as a Councillor.
-What are your next priorities, should you get elected again?
Simply getting elected is not a job done. Getting elected then being active is the job you must face up to and I think I've done exactly that if I may be vain for a moment, so I think I've worked for it and I will continue to do so. If re-elected in May I am keen on working on putting more pressure on seeing regeneration of Stirchley District Centre and car parks. I want to ensure Randlay Centre is complete by end of 2019, and that Hollinswood flats are given more importance and resource to help their community grow prosperously. I want to see Culmington Play Area regenerated and a new play area installed at Holmer Lake. One of my key ambitions I will be tackling is fly-tipping and litter, I have a project in the pipelines I'm going to be working on if I am a Councillor or not after May.
-Standing as an Independent Candidate is undoubtedly the toughest way to a seat. Why reject the party support and go it alone?
I've seen communities and people let down because someone has followed their party whip which disagrees with the residents, that's not the job of a Councillor. Maybe at a national scale political parties serve a purpose but at local level I have seen it break more than build bridges. I think if you really want to put people before politics you need to step away from the political party. Yes its hard but I answer to only one group of people, residents. Isn't that the way it should be? If more people thought this way our Council would be run with so much more sympathy for our residents and it wouldn't have political ideologies blocking our vision for a better borough. I have a friend who runs a Council in Nottingham with an independent group and they do so much great work, I think that could be replicated here.
-What will it take to get enough votes to hang on to the seat?
Well I've worked out my estimate number of votes that I need to be re-elected and I just hope that that amount of people have seen the work I have done for them and their communities. I've got a good team of people helping me who are residents of my ward. What I think should get you elected is real work, and I have worked out that since being elected in 2015 I have done a street surgery in every street in my ward, so that's around 3,927 doors that have received me posting my details through their door offering my support. Those who really work for it should deserve to keep doing it.
-What are you hearing on the doorsteps?
People seem pleased to know that there is another option from the big parties. There is an overwhelming response that most I speak with, can only name me and one other of their three Borough Councillors. They want Stirchley, Randlay, Hollinswood and Holmer Lake not to be forgotten about and that's what I hope to achieve for them.
-How important is having your generation represented at Borough level?
Incredibly important, there are a lot of good Councillors on the Council but they've gone way past their retirement
age and need to pass their knowledge and skills onto younger people who can come in with a fresh approach and energy, After all the future of this borough will belong to those young people and they should be making decisions on that future today to ensure it's the right one.
-What advice would you offer to anyone reading this, wondering if they should get involved in local politics?
There's lots of boring reading, meetings where someone falls asleep and you have to not laugh, you'll get someone throw decisive opinions at you and you'll rarely get
thanked… but all you need is to see the smile on one persons face to know its all worth it. I know some people who say "there's no point, nothing will ever change", well I disagree, YOU could be the difference between nothing being done and real change.
Thanks to Connor for sharing his thoughts.
Something to share? telfordlive@gmail.com – anonymity guaranteed.
Footnote: It was a hat in Raj's pocket!