Review: Izzy's Cafe in Wellington
A toast to Izzy's Cafe, the latest eaterie in Wellington, Telford.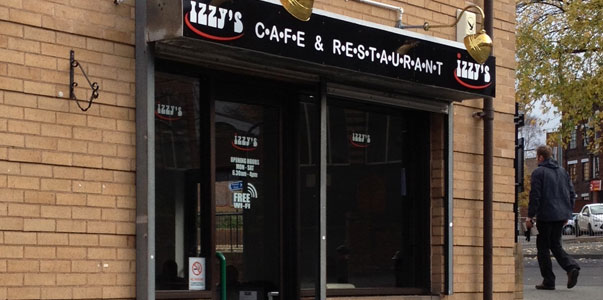 Friday morning, I'd been up since 6am working hard, and already had breakfast when I needed a break.  Parking right outside Izzy's on Nailors Row car park at 10am wasn't the struggle I expected given some recent comments from shoppers visiting Wellington.
There are two entrances into Izzys Cafe, one directly from the car park and one off the pedestrianised New Street, opposite Savers and B&M Bargains.  Once through the door, I was struck how light and airy the cafe had become since the refit following the closure of the Cafe Del Manso (or even the Copper Kettle if you are old enough!).  The many windows, new furniture and light decor gives the cafe a fresh, contemporary feel, without it being clinical.
I recall the last time I went to Cafe Del Manso it seemed to be used as a canteen by the bus drivers, but now the bus station has moved, probably less so.
Its not waitress service (is there anywhere left that does this now?) so I ordered a cappuccino (£1.50) and then it hit me.  The smell of toast drifted from the small kitchen and I could not resist.  This added 50p to my bill.  My coffee was made at the back of the counter using freshly ground beans, in the traditional way.  The coffee shot was perfect strength for me, not too strong.  Unfortunately the cappuccino was topped up with just steamed milk and no froth as is so often the case these days. Couldn't fault the taste though.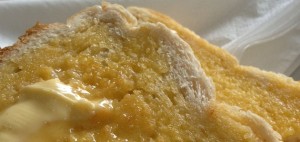 By the time I took to my seat, the toast was brought over.  What a delight.  I did not expect thick sliced bread.  I did not expect it perfectly toasted and spread with proper, salted butter. It was delicious.  As I ate my second breakfast of the day I looked at the simple menu.  It was made up of a comprehensive breakfast menu including a black pudding option, and filled baguettes, crusty bread and rolls plus jacket potatoes for the lunchtime fayre.  If the standard of ingredients is the same as my toast, then this should do very well.
A TV is on the wall showing a news channel, unobtrusive, and I quite liked seeing the headlines as I finished my coffee & toast.
Izzy is from Admaston, so not too far to go to work, and used to have a catering trailer (that she sold a few years ago, she hastened to add!) and has been doing outside catering since.  The new cafe provides and ideal base from which to build her business. Starting at 6:30am, and not closing half day Wednesday is a real unique feature.
I enjoyed my visit, got a friendly welcome and good food.  I'll be back!
High chairs for children
Refrigerated display with jacket potato & sandwich fillings.
Free Wifi
Clean and bright, all new equipment
Eat in or takeaway
Izzy's Cafe
71 New Street
Wellington
Telford
TF1 1LU
Open Mon-Sat
6:30am to 4pm