A hugely successful annual walk between two Shropshire hospitals which has raised more than £25,000 for charity will be bigger than ever when it is held again this summer.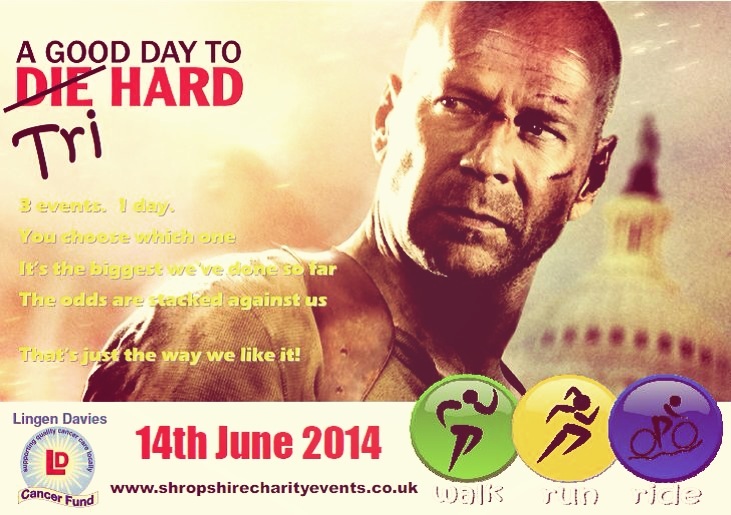 Organisers are hoping to raise £20,000 through the A Good Day to Tri Hard fundraiser, which will feature three events in one day on Saturday 14 June 2014.
Nick Holding, an Improvement Manager at The Shrewsbury and Telford Hospital NHS Trust, said: "We've been delighted with the support of our previous walks between the Princess Royal Hospital (PRH) in Telford and the Royal Shrewsbury Hospital (RSH) and want this year's event to be bigger than ever before.
"To help celebrate 35 years of amazing fundraising by the Lingen Davies Cancer Fund, there will not only be an 18-mile walk, but entrants will also be able to choose to tackle an 18-mile run or take on a 35-mile cycle ride instead.
"All of the proceeds will go to Lingen Davies and whichever event participants choose, it promises to be our biggest event yet and I'm sure it will be a memorable day."
All events will start from PRH and will end at RSH. The walk and run will follow the same route as last year's event taking in a number of villages between the hospitals, just in reverse, and the cycle ride will be a scenic tour, taking in The Wrekin, Ironbridge, Atcham, Upton Magna, then alongside the River Severn and through The Quarry.
Another special addition to the day this year will be the Lingen Davies Garden Party, which will be held in the grounds of the Shropshire Conference Centre at RSH. Starting at 12pm, this will be an opportunity for those who are not able to take part in the events to support the day, and also to welcome the weary travellers home.
Nick added: "It's never too early to start training, and preparing for the events can help you achieve any New Year resolutions you may have set yourself. All details for the events are on our new website at www.shropshirecharityevents.co.uk"
This year's event follows the success of two previous walks. Last year the From Here to Maternity walk raised around £18,000 for a fun, learning environment, and hi-tech facilities at the new Women and Children's Unit which will open at PRH later this year.
The funds went to the Caring For Our Future appeal, launched by Councillor Kevin Guy during his term of office as Mayor of Telford & Wrekin, which focused on the creation of a garden room that will link the children's inpatient services to the outside space for children, young people and their families.
And in 2012 The Great Walk to Work raised just under £10,000 for the Lingen Davies appeal to buy furniture for the Lingen Davies Centre at RSH – double the fundraising target.
Getting involved in A Good Day to Tri Hard is simple. All entrants need to do is choose the event they would like to take part in, and register via the website www.shropshirecharityevents.co.uk
Entry for the event is £10, which can be paid through the Lingen Davies Appeals Office in the Hamer Centre at RSH or via the Just Giving website at www.justgiving.com/agooddaytotrihard
Organisers are also looking for willing volunteers to be marshals on the day, and they would encourage anyone who wants to help to get in touch.
There are many other ways to support the day, whether it's helping out at the garden party, or organising a partner event during the week before. Please contact Nick Holding to discuss how you could get involved by emailing him at threefoxes@gmail.com