Southwater Council Apartments
I walked through Southwater today. That big patch of green between Nandos, Premier Inn, Mimosa, Coal, Ice Rink & the lake is destined to be council housing. The housing is part of Telford Council plans to start a property development business and rent out houses. This will not be social housing, but housing to be let at market rates.
I like this green area. Given the height of the buildings there, I think it might feel a bit claustrophobic if the development goes ahead.
Southwater has won awards for quality of the development. Would this be a build too far? Dan Braddock thinks it would be, and has created a petition to keep the greenery in place.
Please don't accuse me of bleating on about where housing shouldn't be. Here is an alternative site in Orleton Lane, Wellington.  I've just searched the Shaping Places document and discovered that this site is not even mentioned.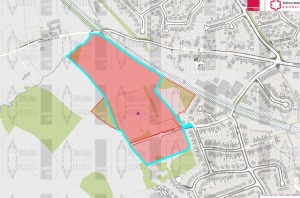 The pink bit is where the Park School & Orleton Lane School used to be.  All services on site, the roads coped with a school (just about!) and the site is huge.  So big, you wouldn't have to use all of it.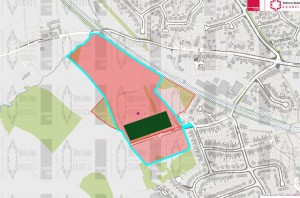 The green bit is all you would need to replace the site at Southwater where the apartments are due to be built.  This site is so big, how about some much needed social housing here?
Still lots of green space to enjoy in Orleton Lane after any development. Indeed, since the schools have been flattened, they are still fenced off so no one can enjoy the space.
What do you think?