Childsplay with Musical Steps
I'm a Mom with a toddler and if you are too, you no doubt spend your time attempting to expand their mind and nurturing the new Einstein or Mozart, when in reality all they want to do dance, sing, run around and make lots of noise. This leads many Moms into searching for affordable and accessible things to do, I'm happy to say I found Musical Steps.
I caught up with Eleanor after last weeks class to ask her about her growing business in the Telford & Newport area.  Firstly something which I feel is the most important thing to stress is Eleanor has an effortless rapport with the toddlers, and an amazing carry on regardless attitude, which even if your child goes off-piste it, Eleanor doesn't. The class continues to flow and as the Mom of the wayward child you don't feel the spotlight is on you or disturbing the others.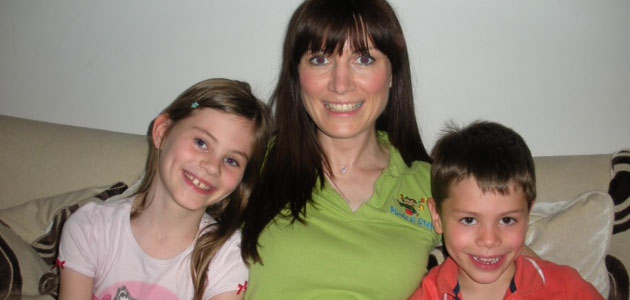 So Eleanor, would you mind firstly telling us a bit of your history and how you came to be with musical steps?
When my youngest child started school, it was time for me to return to work after having eight years out to raise my children. However, I wanted a job that would be flexible enough to fit in with my own children so that I could continue to be there for them in the same way as I had been, but it was also really important that I had a job that I would find fulfilling and rewarding. When I heard about Musical Steps, it seemed ideal.  I did a PGCE course in early years education at Worcester University before having my children and I've always worked with and loved working with children. I have a musical background and have always enjoyed being involved in singing in choirs from an early age. I value and encourage the importance of music in young peoples lives and hope that Musical Steps enables me to share my enthusiasm for music.
Can you tell me history of the company
Musical Steps was founded in 2002 by Cathy McCallum, who has a degree in music, has been a school teacher, and is a parent herself. Cathy wanted to develop an educationally sound and musically accurate curriculum which would really help with a child's all-round development. Many years of study and practical experience have gone into Musical Steps and has grown so much over the years that there is now a team of award winning teachers scattered across the country.
Whats unique about Musical Steps?
Musical Steps really does stand out from the crowd. It is different from other music classes in that it offers so much more than a simple sing-song. Musical Steps does not rely on commercial backing tracks; we use our own voices and musical expertise; and our teaching techniques are based on highly successful methods developed by the world-renowned Kodaly, Dalcroze, Suzuki and others.
The technical elements of our classes are not obvious because we have so much fun, but Musical Steps offers a solid foundation of first-class music teaching. We provide an excellent preparation for learning a musical instrument by teaching pitch, rhythm and musical notation. Other music classes often lack this depth and expertise, which is a real shame and a missed opportunity. Just as importantly, research shows that making music acts as a springboard to enhance children's all-round development and well-being, and it goes without saying that sharing music is a wonderful thing for families to do together.
Can you give a brief explanation of how a class works, and what you would expect to see?
The classes are well planned and structured. Familiar songs and nursery rhymes are used, along with new songs that are introduced steadily. We use the 'sound sack' every week to bring a weekly theme to the classes, along with a variety of instruments such as maracas, finger cymbals and claves. Other props are used, such as feathers, bubbles, puppets and scarves to support learning and development in a fun way.  There are also lots of opportunities to move to a variety of 'real' music such as classical, Cuban and jazz. Classes are always energetic and the enthusiasm is infectious!
What benefits are there to the children involved?
As mentioned above, the benefits to children being actively involved in music-making at Musical Steps are significant. Alongside musical concepts being learned, music-making plays a vital role in developing co-ordination, communication, co-operation, motor control, socialisation, and the ability to tune-in to rhyme and musical speech patterns that are essential to successfully learning to read and write.
Several of my fellow 'classmates' have noticed the session has honed other incidental skills whilst being there too. After each 'sound sack' activity the children have to return the instruments to the sack, my friend won't mind me saying her little girl was not happy at all with returning these instruments, after just a few classes she quite happily returns them and awaits the next activity and I am pleased to say my little boys sharing skills have improved no end.
If you like the sound of Musical steps then there are three classes for different age ranges: the Baby Band for 4 month to 18 month olds, the Toddler Troupe for 18 month to 3 year olds and the Music Express for 3 to 5 year olds.
You can find more information about Musical Steps and Eleanor
http://www.facebook.com/EleanorsMusicalSteps
https://twitter.com/MusicalStepsEP