What makes you buy a book?  The cover, the synopsis on the back, reviews or personal recommendation? In the case of I think I'm OK, by Telford author C S Kenny, it was a tweet.
I first met Chris in around 2005, when I saw an advert on the Telford-Live.com forum for a motorcycle.  I'd recently sold mine and fancied something a little more sedate.  Chris had a Honda Goldwing for sale.  As soon as I saw it, I knew I'd buy it.  I bought the genuineness of the seller too.  Little did I know I'd be reading his memoirs a few years later.
I think I'm OK is a trip through the 60's and 70's with a troubled but bright, inventive but misguided Bradford kid. Mature beyond his years, but more front than Dolly Parton. Check out the reviews yourself here:
I caught up with Chris, 53, recently after I noticed he bought another Goldwing, almost the same as the one currently sitting in my garage!
What did you do before you became an author?
I have worked for Aga at Ketley, I was a lifeguard at Market Drayton open air pool, delivered pizzas, was a supervisor in a factory employing disabled people, and my last job was as a Drayman. Since having spinal surgery I have been unemployed. Times have been pretty hard and at one stage I had to sell my beloved motorcycle to raise some cash. I sold it to some bloke from Wellington, his name was . . . erm . . . no, can't remember.
Describe your book in a sentence: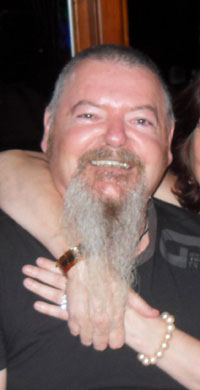 It is an honest and open account of my time in and out of care as a child, giving reasons for my behaviour rather than excuses and looking for understanding rather than sympathy.
What was the point at which you decided to get your memoirs down on paper?
This is a difficult one. There were a number of factors that all seemed to pop up around the same time. I had been thinking about writing my memoir for a while then my biological father died. Two months later my stepfather passed away and I guess I was kicking myself for not letting them know what had happened to me. At both funerals I met family members that I had not seen for years and they were keen to point out what a little so and so I had been. You know the sort of thing, they do that half hearted Nazi salute whilst saying, "The last time I saw you, you were this high. I remember when you  . . . blah blah blah." I so wanted to blurt it all out but decided that if I was going to speak out then I would do it in writing.
Around that time I saw something on TV which had me shouting at it. It was a report on historic child abuse at Jersey's Haut de la Garenne children's home. In particular it was a question asked by the defence to one of the women giving evidence. He asked, "Why have you decided to speak out now, why didn't you say something at the time?"  Now I appreciate he had a job to do but I shouted out at least five good reasons why someone would keep quiet, and if a thicko such as I can figure it out . . .
After much umming and ahhing I sent off for and subsequently received my Social Services records. I wanted these to make sure I had the chronology right. However they turned out to be priceless. Not only did they give me an insight as to what the Professionals thought about me, they also brought long lost memories flooding back. That's when I thought I might as well do this.
When researching the book, how did you feel retracing your steps and coming into contact with some of the people you encountered all those years ago?
Strange. At some points I became a little angry, at others sad. I laughed and cried (don't tell anyone about the crying bit). The oddest thing I found was that as I remembered certain places, even though we are talking about the best part of 40 years ago, I could smell them. One place in particular, Ashbank in York, I can smell it even now. Cabbage, furniture polish and scrubbing soap. Yuk.
You open your book with a short chapter about your time in Strangeways Prison at 15 years of age. At that point, how did you think your future would pan out?
I don't believe I thought too much about the future at that point, if anything I think I had already accepted that Prison was my lot, an occupational hazard. Though I'm sure I must have had a rough idea that the future wasn't going to be anything spectacular.
In your book you wrote a poem to a psychologist. When I read it, I thought that was quite unusual, especially given your circumstances and it was in the 1970's.  I'd have thought that would not have been the done thing in a childrens home in the late 60's. What made you use writing to communicate at that point?
As far back as I can remember I always found writing (and still do for that matter) an easier way to get my point across. As a kid in institutions I would usually be shouted down before I could get my point across but I soon learned that people tended to read the whole thing before laying into me, may as well get hung for a sheep.
I don't profess to be good at it, just better at it than conversing.
I can say what I feel, what I want, without interruption. It may well be a confidence thing but I can use words in writing that I would feel embarrassed to use in conversation. I do sometimes flip that around, for example  earlier I used umming and ahhing instead of procrastinating. (I'm from up north, five syllables? Never) The other thing is that it's not that strange for kids to find other ways of communicating, especially delinquent children. Some, like me, would write down their darkest thoughts as a release, others would harm themselves, some would harm others. Even a child who refuses to speak is telling you something.
Running away seemed to be quite common in the 60's & 70's.  Do you think kids in care are still absconding to the same extent?
Without question. In fact I would go so far as to say it's worse now. In my day, if I was lucky, I would be returned by the police to wherever I had run away from and usually be punished. That could be caned, slapped, punched or humiliated in some way. If I was unlucky I would have received a slap from the police first. That's not the "poor me" act, just fact.
The kids of today know full well there is little anyone can do to them. I would say though that the dangers some of these kids face nowadays when on the streets are far worse than the 70's.
The abuse that features in parts of the book, took me by surprise. How do you decide what to include and what to leave out?
I don't think I consciously made a decision to leave anything out, (if we're talking about the abuse) I think it was just a case of me trying to let the reader know what happened without being too graphic. There is a huge amount of my antics that I left out, mainly because I didn't want my book to just be a catalogue of petty crime. I put in what I thought were the bullet points of those years.
Are you ever going to name the gangster that became a politician?
Not in a million bloody years.
What's next for Chris Kenny?
I'm writing a fictional novel and trying to turn my memoir into a script. By trying I mean struggling, and when it all gets too much I climb on my motorcycle and pop to Wolverhampton to buy an Express and Star. I could get one from the M54 services but what would be the fun in that?
Rated 4.7 out of 5 Stars, I think I'm OK, by C S Kenny is available on Amazon as a Kindle download. Click to View.