Telford Peugeot Pedallers Raise Cash
Employees from local Peugeot dealership, Telford Motors, in Ketley, have raised over £200 for Peugeot UK's charity of the year, BBC's Children in Need.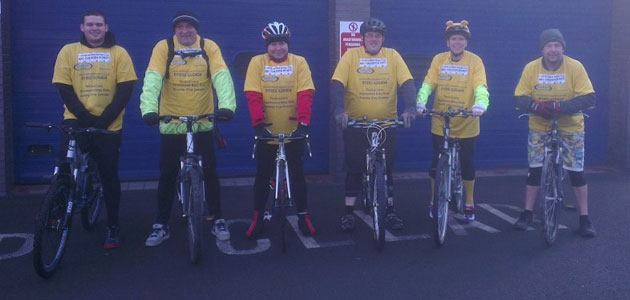 The team took to the saddle in a punishing 22 mile return ride from the dealership, on Holyhead Road, to Shrewsbury town centre. Tom Duckett, service technician, Lee Russell, service department technician, Nathan Dawson, department valeter, Debbie Lees, ex service manager, Chris Owen ex service department master technician and Gary Cooper, ex-service department technician, all took part.
The money raised from the ride means the dealership has now broken its target of raising £1,000 and is now nearing £1,500. The Peugeot team also hosted a charity pub quiz at The Crown Inn, Oakengates, to help achieve its next fundraising goal.
Andy Guy, marketing co-ordinator at Telford Motors, said: "We are really proud of the team for completing such a physically demanding challenge and raising so much money in the process.
"We also enjoyed hosting our Children in Need pub quiz, getting us closer to our next fundraising target. It is really rewarding to raise so much money for such a deserving charity."
Ahead of Children in Need's telethon day, the dealership is also encouraging the car designers of tomorrow to create their perfect Peugeot 208 with 'Pudsey's Dream Wheels'. To enter and be in with a chance of winning a Peugeot 208 please visit www.pudseysdreamwheels.co.uk.
Peugeot UK is an official charity partner of BBC's Children in Need and Telford Motors has been fundraising throughout 2012 for the charity, with plenty more exciting fundraising ideas in the pipeline.
For more information and to help raise money for Children in Need, please contact the sales team on 01952 620 404, visit the dealership on Holyhead Road, or visit http://dealer.peugeot.co.uk/telford-motors/home/