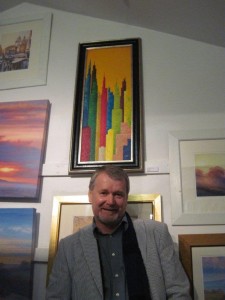 Artist David Pearson has invited me to a exhibition at The Fine arts & Framing Gallery at Merrythought on Friday 7th December, So I thought I'd catch up with him before hand to find out about the man behind the paintings that I was about to see.
Hi David, thanks for taking the time out to chat to us, obvious question to start with,  but when did you realise that you had a flair for art?
I first realised that I could draw when I was about 7 or 8 years old. I remember doodling in my book during class when I felt a sharp pain as the teacher started lifting me from the chair by my ear. I was sent to the headmaster with my book under my arm, however, much to my surprise and delight instead of being punished I was praised by the headmaster who I later learnt was a great lover of anything arty. Over the next few years my interest in drawing developed into a love of art.
Thats a great story but if you don't mind me saying your school days are a few years behind you now, what re ignighted you or we're you still painting behind the scenes?
Well my active interest in art continued for about 5 years after I left school but during the following 20 years or so I only dabbled periodically, trying various media, i.e., pastel, pencil and oil just producing the odd picture here and there. It wasn't until my forties that I started painting more prolifically.
I notice in your portfolio that you also draw in pencil, did that come before or after the painting and which do you prefer ?
This is a very good question. For me it was the drawing that came first, the painting only came about when I decided to start reproducing some of the record album covers of the 70s. This era was famous for producing really great album art, Roger Dean was particularly well known for his futuristic works, many of which were used by the prog-rock band Yes. The first oil painting I actually did was a copy of the album cover "Every Good Boy Deserves Favour" by the Moody Blues. My style of oil painting has since changed and the style that I currently favour is actually a very lazy way to paint so therefore it would be fair to say from that point of view I prefer painting to drawing. I find drawing very taxing and requires long spells of concentration to get the desired effect. Also, with myself drawing requires a lot of warm up, whereas with painting it's quicker to get into a flow.
See for yourselves what David produces as he is currently showing one painting in Live Galleries in Telford Town Centre, it is a reproduction of Monet "San Giorggio Majore"  also as I mentioned in my introduction he will be also taking part in an exhibition at Ironbridge Fine Arts & Framing Gallery at the Merrythought Centre  There is an open evening on Friday December 7th from 7 pm till 9 pm. Anyone is welcome to come and join them for a glass of wine and view the works on display, He will be exhibiting five oil paintings along with various works from other artists.
But in the mean time take a look at the  website is www.forbiddencolours.net and check out the work.
I'll see you on the 7th