A family-run estate and lettings agency in Telford has undergone a rebrand to move the company with their latest market as it celebrates its 14th year of business.  Coleman Estates, which was set up in 1998 by Gill Coleman, has launched its new website, new branding and marketing material this month.
Proud to remain family-owned, Gill is joined by her son Max Coleman, sales director and valuer, his wife Kate, responsible for property management and maintenance and three other team members.  Gill's husband Jeff is responsible for the day-to-day running of the accounts as company secretary.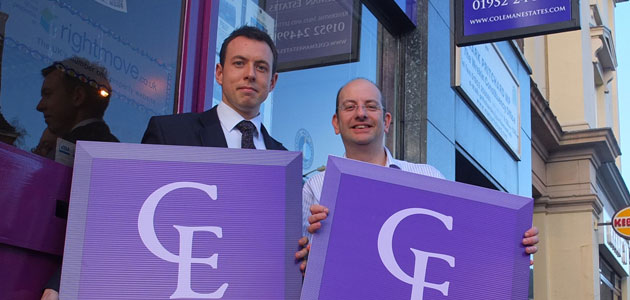 Max Coleman, who first started working for his parent's firm at the age of 14, said the identity of the company had remained the same since its launch in 1998 and needed a new look.
"Mum started Coleman Estates just three months before the buy-to-let property boom in 1998 and the company has gone from strength to strength with the number of Coleman family members working here increasing too. "However, I felt that the branding and website had not moved with our 21st century image and did not portray everything we do," he said.
"That's when we turned to Andy and his team at Runtime. We were looking for a local company and Runtime took control of everything we needed and we are overwhelmed with the results.
"We have already seen an increase in business due to the first impression created through the new website and support material Andy created for us.  You can now also see selected properties on our Twitter @colemanstelford"
Andy Smith, from Runtime on Vineyard Road, said: "We are delighted to service clients as far away as New York but love to work for clients right on our doorstep.
"Coleman Estates are a fantastic example of a strong local company still run by the family who launched it and most importantly still holding the strong family and business values which they started with in 1998.
"I wish them every success in the future."
To have a look at the new website created by Runtime visit www.colemanestates.com or for more information about how you can rebrand visit www.runtimeprint.co.uk.