Opinion: Shropshire Star – Delivering Local News?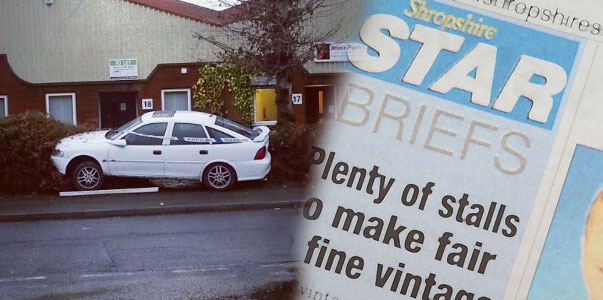 The Shropshire Star is paper that locals love to hate. I'd be the first to admit that that newspapers have been fighting for their lives for a good few years, struggling for advertising revenue in the key sectors of property, job vacancies and motoring and The Shropshire Star is no exeption. The circulation figures have been slowly sliding down to 50,000 from around 90,000 ten years ago, the number of regional editions also reducing as profits are hit.  Sounds bad huh?  Well I happen to like the Star.  I like that we have a local paper that isn't a free, ad-laden excuse for a newspaper and I have supported it through buying adverts and copies.  The business section on Tuesdays is a must read. I don't like that it has a near monopoly on local news in the area.
I'll also admit that I'm not a journalist.  I don't know how they get their stories, or what effort goes into writing them although the twitter accounts of some of their staff are very insightful and give us some clues as to the pressures they are under.  The excellent Ann Clarkson and the entertaining David Burrows are 'must follows' for Shropshire people. A full list of the staff on twitter can be found here: https://en.twitter.com/ShropshireStar/shropshire-star-staff
I also know that there have been a few instances where their chief sneak has been the social network, Twitter.  This peaked on New Years Day, where a feature appeared on their website about policing on New Years Eve. The picture accompanying the feature is a shot straight from the paper, where each tweet is sequenced in alternating blue and white pull-outs, effectively printing out the tweetstream from Supt. Tozer, on duty that night.  In previous years, a reporter would have been on duty, and written a feature first-hand filled with words that painted pictures in our minds eye, rather than 140 character post-it notes from a busy copper, as interesting as they were on twitter.
It's not the first time that the Shropshire Star has done this.  In December 2012, during a spate of car crashes in Telford, one particularly photogenic crash was snapped and uploaded to Twitter by David Ross, who works nearby.  I asked if I could use the pic for Telford Live, and David agreed, sending another photo from a different angle.  The Shropshire Star twitter account also contacted David to ask where it was.  The following day, 22nd December, I was intrigued when David posted a question to Shropshire Star, asking why his photo and quotes from his twitter feed appeared on page 7 without his knowledge.  I didn't see a response although I've looked for one. David was concerned his tweet comment was taken out of context and made him look a bit daft.  I'm not sure it did, but I'm not David and he probably has more street cred than I do.
Without doubt there was a story there, there had been three crashes on the same corner in recent months.  Why didn't the Star send a reporter out to get the full story, and take it's own picture?  Has the skill of journalism reduced to copying and pasting from twitter? Has downloading a camera phone picture from the social networks negated a need for staff photographers?   If this is the case, then I fear for the future of our local Star. Fears, I hope, that are unfounded.
What do you think of the Shropshire Star? Leave your thoughts below.  Comments are unmoderated as long as they are legal!