New Fitness Kick Started in Telford
A new fitness kick-start programme which could attract people for weekend visits to Shropshire will be launched by three fitness experts this month.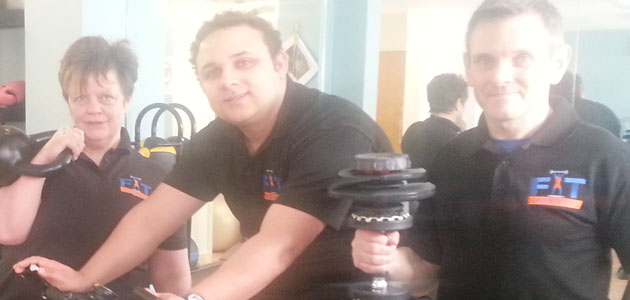 Telford-based personal trainers, Stuart Henderson from Ideal Fitness and Gareth Connell and Maz Bedson from Purity Health and Fitness, have teamed up to launch Fit Weekenders. It will be launched at a free one-day taster event at The Wroxeter Hotel on February 27.
The health and fitness workshops will be based on "education, empowerment and action" but the fitness instructors behind the venture said their main aim was to make people realise everyone could achieve their fitness goals. It is hoped the venture will see them turn into a two-day residential weekend
which will attract people from all over the UK, along with corporate team building events and birthday celebrations with a difference.
Stuart, who turned to fitness as part of his determined effort to recover from a broken back in 2008, said: "Fitness is a massive part of my life and I want to pass that enthusiasm and passion on to others – especially those who haven't got the belief to get where they want to be. "Through the Fit Weekenders programme they will start seeing results which will give them the determination to reach their fitness goals which includes both physical and mental targets. "They will learn how fitness really starts in the kitchen and then learn how the
fitness techniques which they go away and do at home – fitness does not have to involve a gym."
Gareth Connell who runs his exclusive one-to-one fitness studio in Wellington with Maz said: "It is that time of year when so many people are turning to exercise but may not have the knowledge to know if what they are doing is right for what they want to achieve. "If people do not see the results they soon give in but if a change in the body and overall fitness and health can be seen and felt then they make it a lifestyle change."
Maz added: "This programme will be about putting the knowledge we offer into action but most importantly having lots of fun with functional full body workouts, presentations, meals and new knowledge to help you reach your own personal goals."
Stuart, who tours the county offering personal training in whatever venue or location his client feels comfortable, added: "At Fit Weekenders we will be teaching people what to do to feel confident and how to like their own body again." The free launch event is open to anyone but places are limited and must be pre-booked. People taking part must be prepared to be photographed and give feedback to organisers on their experience.
"It's really important that you give time to your body. Your body is the best investment you have. So every single person should teach themselves about getting fit and keeping fit and start looking after your health and fitness," Gaz added.
To apply e-mail info@fitweekenders.co.uk or call Stuart on 07944 626 241 or Gareth on 07761503534. Visit www.fitweekenders.co.uk for more information.