Telford Utd Seeks Old Relics
A group of Telford supporters are appealing for fans of the Club to come forward with old programmes, photos and memorabilia of times gone by as part of a project to raise awareness about dementia in the borough.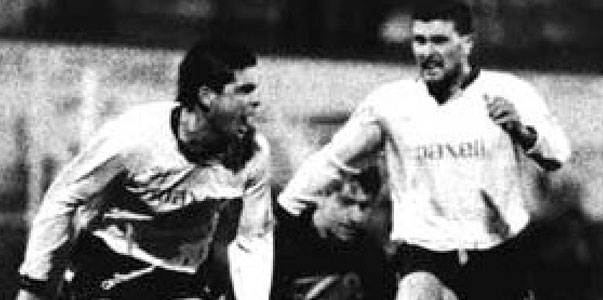 Over the last 100 years and more people have come to watch Wellington Town, Telford United and more recently AFC Telford United play football. In that time there have been many great times and the project aims to get behind those stories to find out peoples personal memories and look at questions like who you went with to your first game? What was the atmosphere like? What sounds, songs and stories do you recall?
The intention is build a set of resources that can be used by the wider community to engender conversations and unearth lost memories between friends, family and carers who look after people with dementia.
The project will be launched on 30th March to coincide with the Club's gave versus Nuneaton which is being sponsored by Peter Reynolds of Aruba Projects on behalf of the Alzheimer's Society. A 'Pop-up museum' will be created in the Learning Centre at the ground where people will be able to put their memorabilia on display and tell their personal stories.
Rob Corbett, Dawley historian and lifelong supporter said "Football generates all sorts of passions, emotions and stories. The project aims to capture these through our individual and collective memories. We want people to come forward with their stories and things that they have stored away in their lofts and cupboards to share them with young and old to reinforce the clubs community links and the spirit that makes the club so special".
Nigel Neat who is involved in the project and who has family members who suffer from dementia said "There are many people in Telford who have a family member or neighbour with dementia and it can be difficult to know how to help them stave off the disease. This project is a great way to provide some simple resources that help people to have conversations that stimulate memories that locked away in the back of the brain"
Peter Reynolds, Club sponsor said 'My company Aruba Projects is proud to be associated with this great initiative and as well as raising funds for the Alzheimer's Society, to do research into this terrible disease, we are also doing something through football to raise awareness of what people can do to help slow down the process with their family and friends"
Pete Jackson from the Supporters Trust said "This is a great initiative by our fans and speaks volumes of the values that Club holds dear. We know there are some great stories out there waiting to be told and we are really looking forward to hearing them"
If you have a piece of memorabilia and a memory you would like to share please contact p.jackson@tust.org who will provide you with details of how to get involved. You can also tweet using #BucksFM