Valentines Day Supper Club
Couples celebrating Valentines in Telford this year are being offered an alternative to the usual dinning out experience.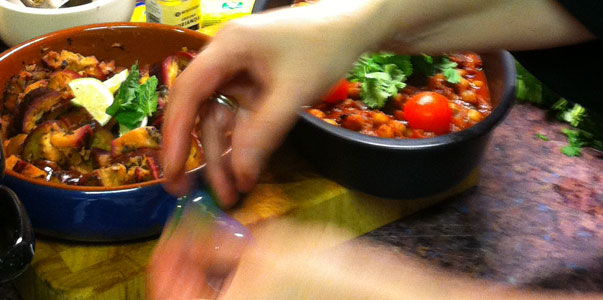 Kerstin Losch with collaboration from award winning chocolatier Julia Wenlock is hosting a Secret Supper Club.. Supper Clubs are hugely popular across the country and offer keen cooks and chefs the opportunity to open up their homes and serve meals in an informal restaurant style.
Kerstin explains "I launched the first Secret Supper Club last year and they have proven very popular, I change the menus each month so they have a special theme. It's a great way for people to enjoy delicious food in an informal environment and meet new people".
The special valentines menu will consist of 3 courses each containing chocolate in some way. "Chocolate goes so well with savoury food and using the right chocolate can really add depth to a dish. I've really enjoyed creating the menu with Kerstin and I'm looking forward to creating some special desserts for the evening" explains Julia, Shropshire Chocolatier from Toot Sweets.
Tickets are £25 which includes a complimentary welcoming glass of fizz with an amuse bouche on arrival, 3 courses, coffee & sweets.  Julia will be on hand to talk to guests about chocolate, and will have a selection of her award winning chocolates on sale. Guests can bring their own bottles of wine or beer to match the menu which will be released shortly.. A few tickets are still available for the evening, but both Julia and Kerstin have said they will add more dates as the Chocolate theme is proving so popular.
For more information or to book please check out www.kerstinskitchen.co.uk or call 01952 593677.