The Best Chip Shop in Telford
From time to time, the conversations we have on twitter take an unexpected twist.  Last Tuesday, we were reminiscing about Telford in the 80s & 90s, particularly about the Shopping Centre and the original meagre line up of shops that took their place in our artificial high st.
Long gone icons like Rumbelows, MEB, and Radio Rentals, rubbed shoulders with Telford specific offerings like The Red Balloon cafe at Carrefours with the conveyor belt that carried dirty dishes a considerable distance before disappearing into an abyss that we can only assume was where the washing-up trolls lived.
Shortly after a mention of Big Als warehouse (by the old maggot factory, up near Millionaires Row) where kids in the know walked for miles to the little arcade where we played Rally X for hours at a time in the darkened corner of an industrial type building, I asked twitter if anyone remembered Angelos Chippy at Little Dawley.
Angelos chip shop was legendary.  I recall cycling there, and later motorcycling, from Stirchley past at least two other chip shops to enjoy the great food they served.  A couple of other people shared their delight of a trip to Angelos, and then the daughter of Angelo replied.  Here's how it unfolded:
And here it the photo.  A proud Angelo Cosco standing outside the best chipshop in Telford in 1970.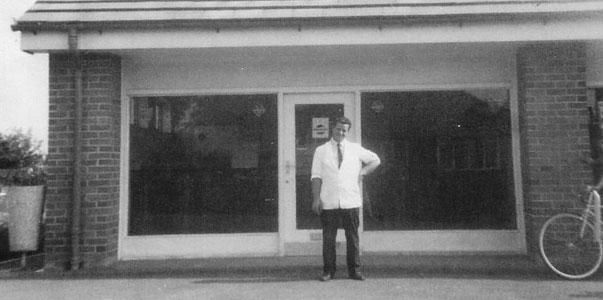 Sadly, Angelo is no longer with us, but on behalf of Telford, I salute you, and the memories your legendary food evokes. Thanks, Angelo.
Leave your thoughts below.