Telford IT Business Builds for Builder.
Shropshire builder Cornbrook Construction has been praised as an innovation leader for developing a digital management system to help the company ride out the recession and now go for growth as the economy recovers.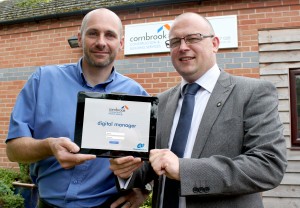 Cornbrook has teamed up with Telford-based software development and integration company BlueHub Solutions to create the new system.
The bespoke software has already impressed one potential major new client so much that Cornbrook Construction is in line to win new contracts that would result in the company creating dozens of new jobs. The new client is also considering adopting the system itself.
The software allows Cornbrook to track and manage its operations in real-time, significantly increasing its ability to plan the best use of resources and guarantee a high quality service.
Matt Breakwell, managing director of Cornbrook, based in Cleobury Mortimer, which employs 30 full-time staff, said: "We knew this would be a useful tool, but it's already proving to be a revelation.
"We've been able to reduce our costs, by cutting out waste, which is improving our competitiveness when tendering for work. It's also supporting our determination to provide a quality service.
"We started development nearly 12 months ago because the recession made maximising efficiency a major priority for us. Now that the construction sector is picking up, we're hoping it will accelerate our growth."
BlueHub Solutions Director Matt Flanagan said: "We have developed bespoke management systems within other commercial sectors, such as logistics and manufacturing, but this technology is quite new in the construction sector.
"Certainly, for this size of company, it makes Cornbrook an innovator on a national scale. I haven't come across any similar companies doing this. It's to their credit that they've had this level of forethought, and it's already paying dividends."
Cornbrook Construction and BlueHub Solutions are both members of Thomas Telford BNI, a business networking group that meets every Thursday at the Grays Hotel, which has helped drive forward the software development.
At its heart is a digital scheduling system, supported by mobile technology, which allows Cornbrook's managers to plan projects and allocate work much more efficiently.
Once work has been scheduled, all staff are sent automatic text alerts about where they are working and who is in their team. They can be also be advised about what tools they need and what materials they need to collect.
Site supervisors monitor the schedule on iPads, which also give them access to project documentation and allows them to order materials, all in real-time.
Plans for future functionality include integrating vehicle tracking, full HR management and customer satisfaction feedback systems.
Matt Breakwell said: "The previous paper-based system was as efficient as we could make it, but we were operating in the dark compared with what we have now.
"Our close working relationship with BlueHub Solutions has been central to where we have got so far. It's been a steep learning curve for both of our teams but it's been very successful.
"We are already seeing significant commercial benefits. We are in talks with a potential national client who was very impressed with the software and the performance guarantees it helped us provide.
"If we win the contract, which we are hopeful of, I believe this digital management system will have been a key factor."
Matt Flanagan said: "The strength of this software is that it has evolved over time, based on Cornbrook's business priorities. There is no wasted effort or cost trying to adapt an off-the-peg system from another sector."
Matt Breakwell added: "We haven't given the system a name yet because we're still finding out new things it can do. It will become absolutely central to the way we manage our business. You never know, one day we might get it to make builder's tea."