A craft centre which brought new life to a former Victorian tile factory in the heart of a Shropshire World Heritage Site is celebrating its 25th anniversary.
More than 30 independent businesses now make the Maws Craft Centre in Jackfield their home.
And Sabine Townend, managing director of the craft centre in the Ironbridge Gorge, said she was delighted they had survived the highs and lows of the last 25 years.
She said: "When we first got involved with this beautiful building my husband, Peter, was leasing a workshop here as a woodworker.
"In 1988 the Telford Development Corporation announced it was selling the site and there were concerns about the future.
"However, my husband and a group of other tenants put great efforts into saving the building from being turned into a nursing home or other development.
"They managed to persuade 15 leaseholders using the site for their businesses to form a consortium and to create Maws Craft Centre (Jackfield) Ltd. We have not looked back from there."
Sabine, who lives on the site, said: "The last 25 years haven't altogether been easy but we have survived many hurdles along the way, including recessions, economic crises and the highs and lows of retail.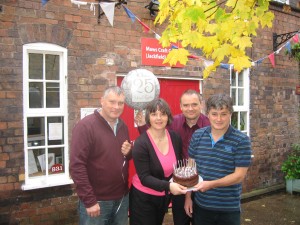 "One of the reasons behind what we did was to protect this historic building dating back to 1883 for future generations to appreciate.
"It was important for us that its use reflected the creativity of the area both now and in the past.
"We wanted to provide a home for some of the wonderful independent businesses that there are in Shropshire."
Sabine said: "Now we have a waiting list for some units here and we have a thriving programme of events throughout the year.
"Our location is ideal and unique. It means we can attract bespoke artists and other creative businesses from across the region.
The Maws Craft Centre also includes 12 flats above the 30 shops.
Some of the businesses have been established at the centre for a number of years, such as Coin Creations, which owner Paul Hornby has run from a unit since 2000 and upholstering business, Panshop Antiques, which has had a unit since 2003. Around a core of craft shops and artists are a small number of businesses such as marketing and design agencies, accountants, property services and holistic therapists.
Sabine said: "Things are certainly on the up for the Maws Craft Centre and in the last year or so we have had a number of new businesses open up.
"The tearoom at the centre was also re-launched and is proving very popular with visitors.
"Our success is partly down to the members of the public, tourists and the vital regular customers who live in the area, who support the centre and the businesses that operate here.
"We have some exciting plans for the future and look forward to celebrating many more anniversaries."
They will be holding a private anniversary party for tenants but are also holding a Halloween party on Thursday October 31st from 4pm to 6pm and entry is £2. A Winter Fayre will also be held on November 23 and stalls are £20.
For more information about the Maws Craft Centre go tohttp://www.mawscraftcentre.co.uk or to book a stand at the Winter Fayre call Sabine on 01952 883030.