Telford Jobs Fair to Return
Telford & Wrekin Council hosted its first jobs fair at The International Centre recently and is already looking to organise its next fair.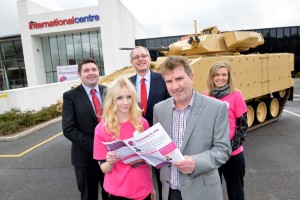 The jobs fair attracted over 4,000 job seekers during the day with more than 100 employers and training providers offering vacancies to those attending.
Jobs were available in many different sectors and for many different skill levels, including the catering, manufacturing, care and hospitality sectors.
Among the recruiters were businesses coming to the new Southwater development when it opens later this summer, including Nandos, Zizzi and Cineworld.
Nandos have 35-40 vacancies in their new restaurant and received more than 400 CVs from potential employees. The general manager of the Walsall branch, Steve Evans, said: "It's been amazing to see the different types of people coming through and we're really excited about some of the applications we've got."
Food production and packaging firm, Faccenda, who are expanding their business this year and plan to take on 300 people by the end of the year, said they had been given over 500 CVs from people at the jobs fair.
Faccenda's HR and Operations Manager, Bev Bishton, said: "It has been a fantastic opportunity to showcase Faccenda as a major employer in the Telford area."
Michelle Wing HR manager for Stadco, who will be recruiting around 180 people as part of their expansion in Telford in the next 18 months, said: "We've been really impressed with the number of young people. It's really positive for our future growth and development."
The stands were overwhelmed with people enquiring about vacancies, filling in application forms and leaving CVs.
Councillor Shaun Davies, cabinet member for Employment and Skills, said: "We were really pleased by the number of people coming to the jobs fair.
"It just shows that people want a job, they're not prepared to sit around and wait for one to come along, they are getting out there and looking for them.
"This was a really important event for Telford, we have a lot of jobs available and last week's fair brought all of these together in one place.
"We also launched our one stop web portal www.telfordjobbox.co.uk for anyone looking for a new job to use to find help and advice, as well as bringing vacancy links together in one place."