New Venture for Telford Tax Specialist
A Telford accountant has launched her own accountancy business after almost 27 years in the industry.
Karen Whitehead launched KEW Accountants and Tax Specialists in April(2014), based in Stafford Park, and already has approximately 200 clients. In addition to being a certified accountant, Miss Whitehead is also a chartered tax advisor – CTA being the highest level of tax qualification in the UK – making her fully qualified to advise clients on all tax matters.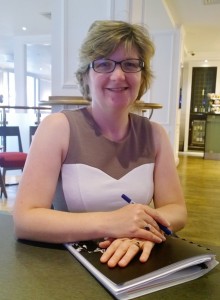 She was previously a partner at a well-known Shropshire accountants for 13 years, before taking the plunge and setting out on her own earlier this year. "I spent 16 brilliant years with my previous company but when one of the partners retired, I saw an opportunity for a new challenge and left to set up my own company," Miss Whitehead said.
"Almost all of my previous clients came with me and between those and new clients, I already have about 200 on my books. "In addition to being a certified accountant, being a chartered tax advisor means I can do so much more than just 'do the books', with specialist and personalised tax advice."
Her new business is based at the Business Development Centre on Stafford Park, a decision which has already paid dividends when several of the other businesses in the building quickly came on board as new clients.
Miss Whitehead was born in Telford and has lived there all her life. She became a trainee accountant on leaving school at 18. "It was the first job I got when I finished my A-Levels with S.C. Parker in Wellington, now known as D E Ball & Co." she added.
"Although I hadn't set out after school to become an accountant, I loved the job from the start and here I am almost 30 years later."
Miss Whitehead has two children, a son and a daughter, with long-term partner Neville Tomlinson; himself a former accountant.
"Neville ran his own accountancy firm in Wellington for years but gave it all up to become a counsellor and is now doing a Masters degree in psychological trauma," she said. "When he left accounting in 2004, his clients came to me at my previous firm and they have again moved with me now I've set up on my own."
In her free time, Miss Whitehead is passionate about growing her own fruit and vegetables and last October fulfilled a long-held dream by getting her own allotment.
KEW Accountants and Tax Specialists is based in Suite 6 at the Business Development Centre, Stafford Park 4. For more information, call 01952 216872 or visit www.kewaccountants.co.uk.