Sadly, on Saturday, a man in his forties fell to his death from the new car park at Southwater. This is clearly a terribly sad event for family, friends and relations.  It's also turned into a Telford hate-fest, thanks to the sensationalist and ghoulish media coverage, fuelled by social media.
On the Saturday as events unfolded, three photos appeared on my twitter timeline.  Two from someone on their way to work and one from someone at work.  These were the only photos I saw, and I follow 5000 Telford people and search twitter for mentions of Telford. The person running the Shropshire Star account asked for permission to use the pics in public, and these photos (cropped) have been seen on lots of websites.  I do not blame the photographer for sharing these, at the time it was just a traffic problem and guy on top of the car park was a tiny group of pixels, not identifiable at all.
I reported the events as they happened on Twitter and Facebook. I didn't use any pics but did retweet the three I saw right at the start of the event.
As soon as the Shropshire Star posted their short, factual news item to Facebook on Sunday, the comments started.  The main thrust was anger at people taking photos on their phones. Out of the 100+comments, two people claimed to have seen onlookers shouting.  This prompted the Star to run the second piece.
Shropshire Star "Telford car park tragedy: Police could prosecute over social media posts
Action will be taken against people who posted photos of a man who fell to his death from the roof of a multi-storey car park, police have warned."
At this point, the national papers, ITV and media organisations got hold of the story and focused on the 'goading' aspect.
Daily Mail "Police condemn jeering crowd who took selfies and goaded suicidal man to 'get on with it and jump' from a multi-storey car park minutes before he plunged to his death"
Daily Mirror "Jeering crowd urges suicidal man to 'jump' before he plunges to his death from multi-storey car park"
Cue social media then get into a frenzy about Telford and the people who live here. This is where I start getting defensive and set about trying to find the cold facts about what happened on the ground on Saturday.
I started with an article that someone sent to me on twitter.  Don't know which paper, but it has a quote from soneone in Telford.  The name looked familiar, yes it was a Shropshire Star facebook commenter. One of the people who commented about the 'goading' on Sunday posted a contradictory status on their own timeline on the Saturday night that the event took place "And to hear people were recording it with their phones and yelling at him to jump…..".  Did she hear it or did she hear that someone else heard it?  Either way the status was carefully snipped to miss out the 'And to hear' so this now looks like a a nailed on fact.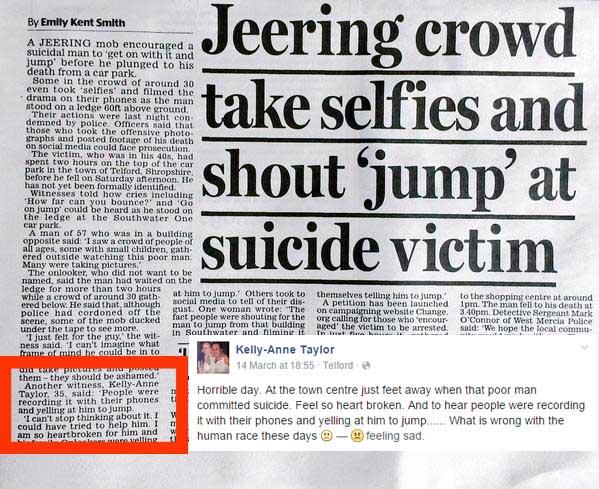 Throughout the media frenzy, one phrase which The Mirror reporter claimed came from an onlooker stuck in my head.  An odd turn of phrase, which you would not expect to hear.  'How far can you bounce?"  I was sure I'd heard it before, so I googled it and found this story from the Mirror in 2008. Coincidence?
I'm starting to piece this together, and wondering if the Jeering Mob or Baying Crowd is just something being whipped up on Facebook, so I asked folks who were actually there, what they saw.  The answer came back, not much.
Karen: " I walked past there at around 1.45 on Saturday, we had come through the shopping centre and we're going to cineworld. I'm not the most observant person, but I had my 3 children, ones nearly 12 and others early teens. None of us saw or heard anything, and I stood outside cineworld finishing my lunch for about 10 mins. We were amazed when we left cinema and everywhere taped off!"
"Well, police supposed to have been called at 1.10 and he didn't fall until 3.40, we came out cinema at around 4. But there was no 'baying crowd' at 1.45, so they weren't there long, if at all."
"Yes (at 4pm) it was still taped off and loads of police there. I wanted to go back into shopping centre then asda. We didn't get back into the shopping centre, and were asked to walk round back of cinema, through car parks to get to Asda, which we did."
So loads of police around.  If there were police on the ground, you'd have thought they might have heard the 'Baying Mob', no?
David: "I was there briefly and yes there were people ( mainly teenagers ) stood watching and filming with their phones. I would judge their mood as excited. I did hear a scruffy looking sod in about his mid 50s say quite audibly " I don't know why he doesn't just jump"! It still echoes in my head. I felt like shaking the ignorant shit of a human."
So a few people with phones and an ignorant middle-ages shit. He might have said it out loud, but 'baying mob'?
Amy: "Came out of cineworld at 3:30, everywhere was taped off and few people were hanging around to find out what was going on however I didn't hear anyone shouting around. Couldn't get past barriers of police so went to mimosa to eat"
No mob, lots of police, 10 mins before he so tragically fell. Not a goad in earshot.
Take a look yourself at the full thread: https://www.facebook.com/TelfordLive
So who is the real baying mob?
We've seen how people can get whipped up into a stupor over social media. Only last week West Mercia Police issued a public statement over a guy who was leafleting an area to buy gold.  Someone posted his pic and suggested he was stealing dogs for baiting.  All cobblers, of course. You just expect a bit better from professionals.
 UPDATE: 18/03/2015
I've been contacted by Rosie:
The Daily mail and the Mirror took my comment from the Shropshire Star facebook page which started with "To the people who were goading…" And changed it to "people were goading" also implying I was a witness when I was no were near Telford that day & making up my age! Lazy journalism and gutter press at it's finest!
UPDATE: 19/03/2015
Were you actually there? Post a comment.