WH Smith brand makes a welcome return to Wellington
[vc_row][vc_column][vc_column_text]Over the past two years Wellington has seen two major stationery retailers close their operations in the town.  The dragon-owned stationers, Rymans, or Partners as it was known for a while, in New Street closed in November 2014, a year after WH Smith closed it's doors.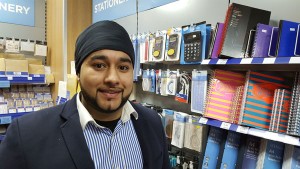 Surrounded by schools and colleges, and with home based workers and business growing in number, the opportunity to bring folders, paper, and general stationery back to the town was on the radar of local Post Office owner, Karpreet Singh as WH Smith quietly developed a new business model to franchise the brand.
Karpreet bought the local post office on Market Street a year ago and had run it pretty much as as he found it, adding subtle improvements such as a 24/7 cash machine.
At just 22, Karpreet recently completed a three year Entrepreneur degree course at Coventry University and has relocated from Hull to Lawley to complete the project.  He plans to be working full time in the business, along with the familiar faces that customers will have dealing with for years.
The introduction of the new stock under the WH Smith brand coincided with a major store refit that saw Wellington without a Post Office for two weeks.  "The new layout is fresh and bright.  The huge benefit that you get from working with huge High Street retail businesses is the best point of sale materials, giving a professional feel to the store, and superb quality merchandise from a recognised brand'.
Karpreet hopes the message that Wellington is most definitely open for business is spreading. 'Free parking, real streets and a lively market are all too often forgotten, even by those living close by, but we have it all here.  I'd urge everyone in Telford to give Wellington a try.  We want businesses to start to use us and I'd encourage them to come and talk to us about our discount scheme for local businesses and organisations.'.
A message echoed by the Mayor Cllr Phillip Morris-Jones, who performed the opening ceremony, and Cllr John Alvey, whose ward the new store falls in, 'welcomed the freshness and quality of the refit'.[/vc_column_text][vc_row_inner][vc_column_inner][vc_gallery interval="3″ images="3204,3203,3202,3201,3199,3198″ img_size="full"][/vc_column_inner][/vc_row_inner][/vc_column][/vc_row]