Crowdfunder for Bin Kittens launched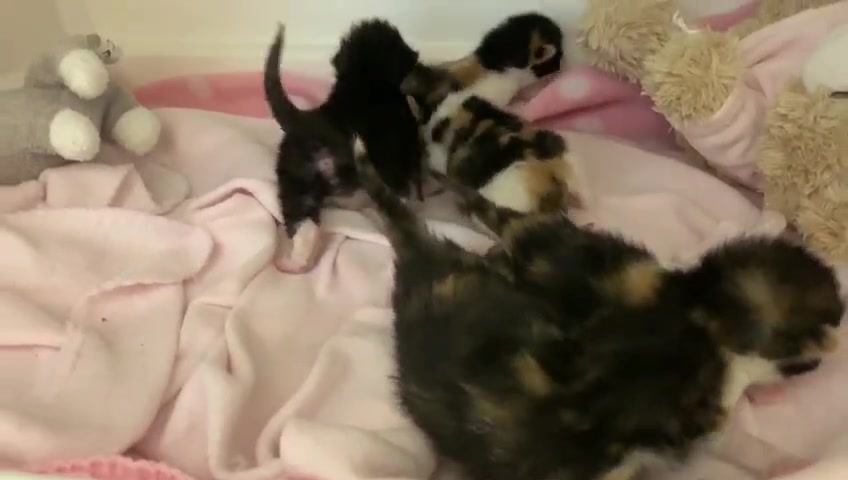 Crowdfunder for Bin Kittens launched
So many people asked how they could help following the story from Tuesday about the kittens rescued from a bin in Telford.
Now a crowdfunder has been launched to help with their care until such a time as they are ready to be rehomed.
"On Monday 11th May, 6 kittens were dumped to their deaths at 5am in Telford after being thrown in the bin, footage has been caught on CCTV.
Luckily the kittens were found kind couple who heard their cries for help at 11:30am and rushed them to the vets, we were then contacted too help rear the babies.
All 6 babies went to the wonderful Natalie Dodds, for rearing, incubation and the best second chance they could of wished for!
Unfortunately the smallest girl wasn't strong enough to fight, she was very unresponsive/limp, pale and wasn't able to maintain a warm temperature since arriving, she crossed rainbow bridge during the first night, RIP sweetheart.
The other 5 babies seem to be little fighters all feeding wonderfully. We currently have no reason for concern, all remaining babies are doing well, are very active, stay strong little ones!
This is the brutal reality when animals are dumped especially such helpless souls, some people would rather throw away 6 lives than make a phone call for help.
We're now appealing for funds to help cover the cost of their current formula/care and future vet bills which includes the routine procedures like flea & worming, neutering, microchipping and first vaccs, aswell as being prepared for any emergencies we may encounter along the way.
We have 3 litters of kittens all under 6weeks of age with us in foster. Either saved from death or growing up feral, 15 mouths to feed/wean total with vet bills soon to cover.
Unfortunately kitten season is still very much ongoing so we can only prepare ourselves for more helpless kittens and queen Cats needing our help and continue rescuing them from the streets. Giving them all the second chances they deserve, please help us help them.
We currently receive no funding and rely on self funding and the kind donations we receive meaning every little truly is a big help and greatly appreciated by all of us especially the kittens in our care and any future rescues.
We sympathise times are hard especially during lockdown, if you aren't able donate please do share our story, it's deeply appreciate and also a big help which never goes unnoticed, Thank You so much!"
Anyone wishing to donate can do so here: https://www.gofundme.com/f/LRbinbabies…
[fb_vid id="photo_id":"657226908177193″"][fb_vid id="657226908177193″]