All Nations Pub and Brewery, Madeley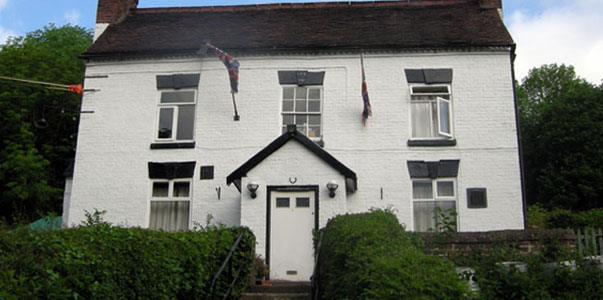 The All Nations is one of Madeley's most interesting pubs and, with only one short break, has brewed its own beer since it was first licensed in 1832. It has appeared in every single edition of the CAMRA Good Beer Guide and in 2010 and 2011 was the Telford & East Shropshire CAMRA pub of the year.
The pub has a long sporting history  – Madeley Town F.C. was formed there in 1885 with landlord Walter Baguley as the Captain. He also played for Ironbridge F.C. and captained Madeley Wanderers F.C. as well as playing for Madeley Hockey Team. In 1904 the Madeley and District Air Gun League was formed at The All Nations with the then landlord George Baguley as a team member.
The Baguley family were also builders and responsible for construction of some local railway stations including Madeley Market station.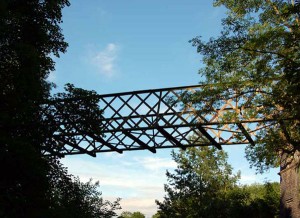 From the pub car park, you can look across Lee Dingle Bridge  with its imposing lattice girder framework spanning Legges Way. It was built around 1860, during the construction of the railway, to replace an earlier timber viaduct and was used to carry coal and ironstone from the Meadow Pit Colliery to Blists Hill Ironworks. The decking has been removed and it is no longer in use.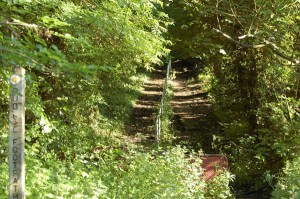 From the car park, you can look up to the top of Baguley's Wind , an inclined plane associated with Meadow Pit Colliery and now used as a footpath. It is mid-19th century in date, again replacing an earlier tram-road.
The current landlord is Jim Birtwhistle who took over the pub around 2002. Despite some tasteful refurbishment, the pub retains its original character, with an open fire in the winter,. It's an unusual pub for Telford in that all people do there is drink, eat and talk – no television (apart from for the occasional rugby international), no jukebox, no dartboard or pool table. Well behaved dogs on leads are welcome (ditto children, leads optional).  As well as guest beers, the regular beers on sale are still brewed on the premises by Mike Handley (Shires Brewery).
Hot and cold filled rolls are always available, made to order, with the toasted cheese and black pudding roll a particular favourite.
The All Nations is known as a warm, friendly pub and although it is heavily frequented by a large number of regulars, new visitors are made very welcome. (The outside toilets are a quaint feature, not a drawback, or so I'm assured!).
There is limited parking in the lane outside the pub, but the somewhat rustic steep track up to the car park may explain the popularity of the pub with some local 4 x 4 users – approach downhill, not uphill, if you intend to negotiate it!
20 Coalport Road
Madeley,
Telford,
TF7 5DP
01952 585 747
Website: http://www.shiresbrewery.co.uk/html/all_nations_inn.html
by Kath Howard
(with much help from Madeley Local History Group and a regular who wishes to remain anonymous!)
If you are interested in the historic pubs of Madeley, then have a look here: http://www.madeleylocalhistory.org/pubpages/index.html