Telford seems to have such a high rate of new business start-ups but finding your niche can be tough. We spoke to Neil Crawford, 28, about his new venture Drink Drop which was launched in October.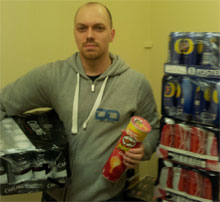 Describe your business in 60 words or less:
Drink Drop offers a late night delivery of alcohol, snacks, cigarettes & more! We specialise in keeping your party going with emergency deliveries of party essentials direct from our warehouse to your door within 45 minutes in the Telford area. Fully licensed.
What was the trigger point that made you decide to start your business?
We have all been there when the drinks have ran dry and the shops are closed but not ready to send everyone home just yet. I wasn't able to find a way to keep our parties going so I decided I should be the one to make it happen.
How will you know if you have been successful?
When I am helping keep peoples parties alive and enjoying every second of it. There is also a serious side to the business. I don't want to see people risk driving in search of supplies after drinking at house parties where alcohol measures are much more generous than pub measures. Drink Drop could potentially help to reduce this. I will be asking for figures from the Police and monitoring these every 6 months to see what is happening.
What do you see as the major hurdle to being successful?
I don't See any Hurdles, just small easily passable bumps.
What advice would you offer to people thinking of starting a business?
Do it, nothing can stop you only slow you down, but if you are seriously thinking about it and think it could be successful why sit back and let it pass?
If you won £250,000 at the bingo, what would you spend it on?
I would definitely try to buy my own personal Island, I am sure I could get one for £250,000.
OR make sure every member of my family can live very comfortably.
Thanks Neil, we wish you the best of luck in your new venture.Website Address:
www.drinkdrop.co.uk
,