TRS Telford Tigers urged to 'Learn to win'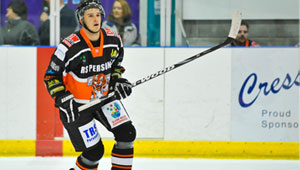 TRS Telford Tigers player-coach Tom Watkins has ordered his side to "learn to win" after they narrowly missed out on victory for the second week running.
A 3-2 lead at the start of the third period against Basingstoke Bison on Saturday evening was not enough to stop the Tigers from eventually losing 4-3 after two late goals.
The result mirrors last week's last-gasp defeat to Sheffield Steeldogs, with Telford having again built a lead before the final 20 minutes.
Both were defeats were, however, against sides that are expected to be vying for the EPL title – and Watkins is counting on a final push to register that vital first win. He said: "It is very disappointing, but we have got to take a lot of heart from the result. Before, we have tended to be a goal or two back at the start of the third period, "To be in that position is great, but we are young and inexperienced, so we have got to learn to win. We tend to get a bit excited once we're ahead, but I would rather we keep our focus even and not get up too high. It is the same thing when we lose a few goals, we get down as well."
Tim Burrows, Adam Taylor and Jaroslav Kruzic were the scorers for Telford, as they made mockery of Basingstoke's miserly reputation. Those three goals were, in fact, the most that the league leaders have conceded in a single game this season.
But with Telford Ice Rink scheduled to open next weekend with the visit of fellow strugglers Peterborough Phantoms, Watkins is hoping for a turnaround in fortunes. He added: "Everyone is really looking forward to the first game at home, and it will give us a big lift. "There is a buzz around it. Hopefully, we will get to practice on the ice in Telford this week, as it is really hard travelling to Coventry and training at midnight. When you have got your own place, it is easier to be focussed and get ready. "I am hoping to bring in another signing this week, and I should know more in a few days. But we have got good depth and even when we were a few guys down, we still had enough. It is very disappointing to lose, but there is a lot of confidence in the side."
Highly rated forward Luke Brittle is the only injury concern from Saturday's game, after he suffered suspected damaged ligaments in his shoulder. The teenager was hit by a late check and will remain an injury doubt ahead of next weekend's away fixture with MK Lightning Saturday and the Tigers long awaited homecoming on Sunday 21st against the Peterborough Phantoms, face of 5:30pm.
Photo: Matt Giles