Review: Madeley Fish Bar, High St, Madeley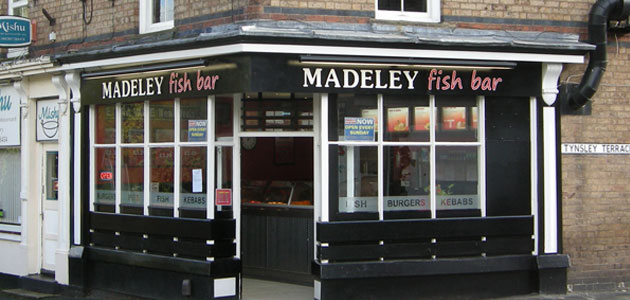 There are plenty of really good fish & chip shops in Telford – another one I like is the one in Market Street, Wellington – but Madeley Fish Bar deserves a special mention.
Some people may have, well, mixed recollections of this chippy, but since Sergio and his team took over in February 2012 it has been completely transformed.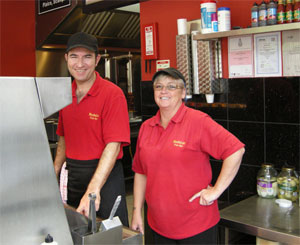 The whole place was stripped back to the brick and refitted in smart red and black and now serves the traditional fish (the plaice is especially delicious), sausages, fish bites, battered mushrooms chips etc but also a variety of kebabs.
Chips are served crunchy, never greasy – the secret is a bit of batter mix in the soaking water.
The main thing I like is the cheerful, friendly and helpful staff, along with good prices and excellent fresh food. Phone your order in and it will be waiting for you.
Now open 7 days a week, 12pm to 10.30pm. If you haven't been there in a while, I definitely recommend you give it a try (and no, no free chips were consumed in the compilation of this review!).
Madeley Fish Bar
20 High Street,
Madeley,
Telford
TF7 5AR
Tel: 01952 582040
by Kath Howard