A national wine tasting company by Virgin has been launched by a Telford woman tasked with rolling it out across the UK.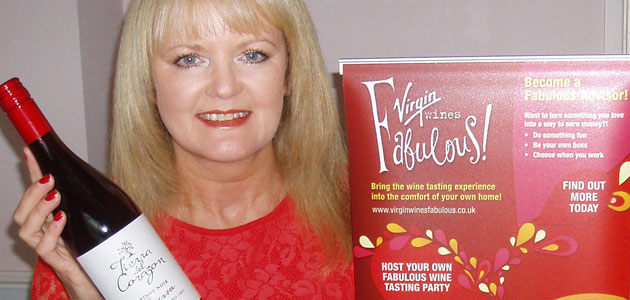 Lesley Pascall, regional sales manager for Virgin Wines Fabulous from Muxton, was head hunted to launch the wine tasting company and build up teams of
wine advisors across the country.
She is now looking for wine tasting advisors who will go to people's homes or events and host a wine tasting evening before giving people the chance to order their favourites.
The mother-of-three from Perivale Gardens said it was very exciting to be headhunted to launch such a business plan and said she was looking forward to giving other people the chance to run their own business.
Mrs Pascall, who was previously a top cosmetics leader for Virgin, said: "The wine tasting evenings are fun and informal but give people a real insight into the background of the wine.
"They are then introduced to new and exciting wines priced from just £6.49 a bottle without leaving their own home.
"It is wonderful to think the start of Virgin Wines Fabulous is happening here in Shropshire.
"The county could potentially have the largest number of advisors due to the company tasking me with the job of finding the right people and I will be looking on my doorstep first."
Mrs Pascall said it was a "great opportunity" and would suit men and women from all backgrounds, including parents looking for flexible working due to children, someone looking for a second business alongside a full-time position, retired people looking to work a few hours a week to someone who wanted to embark on a new challenge in a bid to make it a full-time career.
"This isn't just a party plan scheme – it's a serious business opportunity where the right candidates will be people who can sell wine in a tasting environment.
"I am looking for people who love wine and want to make money doing something they enjoy. I am not necessarily looking for wine experts as full training is given in their local area.
"It's not just about the tastings and events, there is a huge re-order customer base for special occasions and corporate events.
"It's unique – there's no other business like it and it's all starting here in Shropshire," Mrs Pascall added.
Virgin Wines Fabulous was launched following the success of Virgin Wines which was launched in 2000 and is now the world's biggest on-line retailer focussing on sourcing handcrafted wines made by small winemakers.
To book a wine tasting or for more information on becoming a wine advisor visit www.virginwinesfabulous.co.uk/lesleypascall or call 07730 762021 or e-mail lesley.pascall@virgin.net.