Tigers Secure First Away Win
TRS Telford Tigers snatched their first victory of the season with a 5-4 win over Milton Keynes Lightning – but they failed to fire in their home debut against Peterborough Phantoms.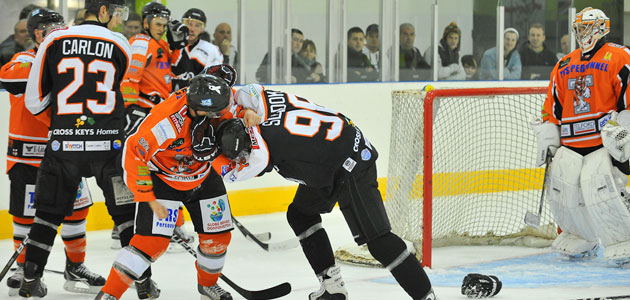 Saturday night's performance was especially impressive, given the tough home record held by Milton Keynes.
But they struggled to match that effort against a powerful Peterborough outfit on Sunday – leading to player-coach Tom Watkins offering an apology to the 850 fans who packed into the ice rink.
He said: "I can only apologise to the fans and the rink staff, and the guys who have worked so hard to make tonight happen.
"There s 20 guys in the dressing room who should feel responsible that they didn't turn up. I don't care how old they are, the occasion got to them.
"I don't agree that Peterborough are seven goals better than us, although they were tonight.
"That is the first time this season that the team has failed to play."
Saturday night's encounter in Milton Keynes was a high point on the weekend, as goals from Tim Burrows (2), James Preece, Callum Bowley and debutant Elliot Knell secured a first win of the EPL season.
But Sunday's disjointed display saw Telford fail to recover from a 2-0 deficit at the end of the first period, with three goals in the middle period making the result certain.
Watkins even asked his side to capitalise on the physical side of their game, in a bid to claw back some ground late in the match.
It was, however, to no avail. He added: "We came into the game full of confidence, and I can't put my finger on why we were so disappointing.
"There was a lack of fight and when I ask the guys to drop the gloves, I expect them to do that. It is the first time i have asked the guys to do that and it isn't something I look to do very often, but when you've got a big crowd in, you've got to give them something.
"There are guys there who battled hard and do that every night, but there are others who just didn't turn up."
Watkins will be looking for signs of a recovery in training this week, as they return to twice-weekly sessions at the newly-opened ice rink.
Telford's first chance of redemption will come next Saturday night, when they make the trip to Bracknell Bees, before the visit of Milton Keynes on Sunday.
photo: Matt Giles