Review: TJ's Cafe, Madeley
Saturday 20th October 2012 – a fantastic sunny day in Wellington, so why I am I driving down to misty, mizzly, drizzly Madeley on a non-work day? And at 8.30am!
Because I've heard that the building abandoned by the Natwest bank in Russell Square some months ago is about to become Madeley's new centrally located cafe. I'm a bit sceptical to be honest – I looked in the week and it still looked like an abandoned bank.
Even so, I could be getting some healthy exercise on the nearby Wrekin. I could be marching in London, wouldn't be the first time. Or, given that is is 8.30am, I could well be enjoying a nice lie-in.
This is a big deal, though, for Madeley which is pretty much my 2nd home in Telford. It will never compete with Wellington in terms of shops, cafes, pubs, restaurants and especially market, but it's struggling back to life after years in the doldrums, with a spruced up centre replacing the miserable, neglected 60s monstrosity that was there before – even if a new Tescos isn't everyone's idea of shopping heaven and I hope charity shops and bookies stop at two each.
The one thing everyone agreed was badly needed was a cafe. There's already a popular snack-van (Little Kitchen) on market days and a Greggs, but we really needed a sit-down cafe.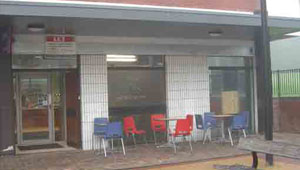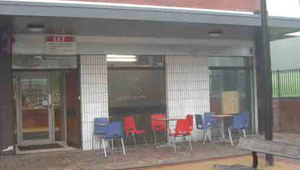 So, TJs. The bank has indeed been transformed inside, even if the frontage and signage have yet to be sorted out, there's still a bunged up hole where the cash machine was, and a few bits of décor inside still need tidying up. I wouldn't grumble about any of that though, knowing the proprietors have worked their socks off to open on time and the first hour or so of a new venture isn't really a fair time to pass judgement.
What TJs does have is cheerful, enthusiastic (if still mildly panicked) staff; a clean, bright open kitchen, nice furniture and a decent if fairly basic menu, supplemented by a choice of home-made scones, cakes and very tempting cup-cakes – it was bit early for cake though, even for me.
I'd say the style is 'typical market caff' and none the worse for that. Traditional English breakfasts, burgers, pies, sausages, chips – a bit light on the salads and veggie offerings, but if the demand is there I'm sure they'll respond (and it is the first day!)
They certainly can't be faulted on value – I had scrambled eggs, two huge thick slices of well-buttered toast and a mug of excellent coffee – all for £2.30.
All in all an excellent start – I'll be back in a month or two to see how they are getting on, and in the meantime I hope TJs gets the support it deserves.
TJ's Cafe,
1 Russell Square,
Madeley
Telford
TF7 5BB
Phone 07771 997 419
Open 7am – 5pm Monday – Saturday
7am – 1pm Sundays
Kath Howard