A swimming instructor who has launched a new company in a bid to teach thousands of youngsters to learn to swim has urged parents to make water safety their number one priority.
Nikki Fogarty, who runs School of Swimming, has scooped new contracts to run classes at Grays Hotel in Telford, Bannatynes Gym in Shrewsbury and Haughton Hall in Shifnal.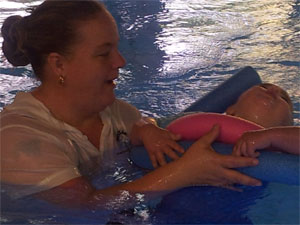 Mrs Fogarty, who has been a qualified swimming instructor for 14 years, said: "It is never too early to introduce children to water. They have a fascination with it and all too often do not realise the dangers.
"Every year especially in the summer months we read about children drowning so I have launched my own company for the first time to help parents teach their children to swim to give them the best chance if they ever did get into difficulty."
The mother-of-six said her own children could swim at 18 months old.
"I am not a huge promoter of the youngsters collecting swimming badges as that only proves they can travel the distance, it does not say they are doing it in the right way or have a good, strong technique and that is what is important in both terms of safety and developing into a good swimmer.
"Although I do offer certificates and badges as an incentive and a form of encouragement but technique is still key.
"I run the crash courses to give people the chance to learn to swim last minute – these are often popular for people who are going on holiday and want to go safe in the knowledge that their child can swim and has some confidence."
Mrs Fogarty said it was not necessarily about whether a child was going to choose swimming as their favourite sport to continue with throughout their life but it was an "essential skill which could turn into a life-saving skill".
"I am also teaching more and more adults who cannot swim as lessons were not available in schools when they were in education or they have a phobia of the water that they do not want to pass on to their own children," she added.
"My class sizes are very small and are often one-to-one or two siblings to one instructor."
Nikki Fogarty School of Swimming will be holding crash courses at Grays Hotel in Telford and Haughton Hall in Shifnal during October half-term and has selected places left for her weekly lessons. She also offers snorkelling lessons.
For more information call Nikki on 07539 305573, e-mail info@nikkifogarty.co.uk or visit www.nikkifogarty.co.uk for more information.