Dyke Yaxley expand to Telford
One of Shrewsbury's best-known accounting firms is to open new offices in Telford after taking on a large part of RSM Tenon's Shropshire client portfolio.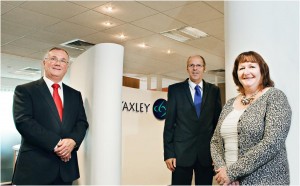 Ian Walsh has been appointed a new director at Dyke Yaxley, after moving from the major national accountancy firm, and will lead the company into uncharted territory by looking to open the company's first Telford arm.
Dyke Yaxley is now looking for office space in Telford.
Managing director Helen Thomas said: "This is an exciting new venture for us which marks the beginning of the establishment of Dyke Yaxley in the Telford area.
"We are thrilled to have attracted someone of Ian Walsh's calibre to our business. He has worked in the Telford area for a long time and knows the market well. He brings excellent clients and an experienced team of professionals.
"We are very proud of our Shropshire roots and the great relationship we have with our clients. Our independence and heritage in the county represents important stability to our clients, whatever their size.
"We look forward to welcoming Ian and his clients to Dyke Yaxley."
Mr Walsh has worked in the accountancy industry for over 30 years and has been based in Telford for the last 20 years. His career has included directorships with RSM Tenon, Bentley Jennison and Rhodes Walsh & Co.
He said: "Dyke Yaxley has an impeccable reputation and the firm was the natural choice for both my clients and staff to join.
"Although one of the largest and most established full-service accountancy practices in Shropshire, Dyke Yaxley has managed to retain its strong values of offering a personal and friendly service.
"Our work is all about establishing long-term relationships and professional integrity, and these things are at the very heart of Dyke Yaxley's business.
"I am looking forward to working with the board of directors to both consolidate relationships with my existing clients and also establishing the firm's name in the Telford area and growing our client base."
Website: http://www.dykeyaxley.co.uk