Catering Company Preps for Growth
A Telford catering company is preparing for a record-breaking year as company bosses revealed bookings have increased three-fold.
Kevin Guerin, who owns the Ironbridge Catering Company, said he already had three times more weddings booked for 2013 compared to the number he had in place this time last year.
The food enthusiast said his peak time for bookings was usually January and February but this year people had booked his huge mobile Swiss BBQ smoker and Paella pans well in advance.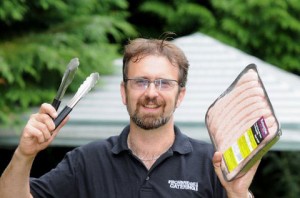 Mr Guerin set up the company with his wife Suzie in 2009 and the pair who share more than 50 years of catering experience between them are preparing for a packed programme of diverse events both in Shropshire and across the UK covering both private and corporate events.
Mr Guerin said he believed the boom in business was down to his company ethos to "buy local" which was stronger than ever before in Shropshire.
"People in Shropshire are passionate about using other suppliers within the county and I have never seen this passion as strong as it is now in the history of our company.
"But what is great is that our passion and love for what we do is spreading across the UK so when we do a wedding in Cornwall they get to not only experience our catering but also produce from Shropshire," Mr Guerin said.
"Our plans for what is expected to be a record-breaking year will include staff to cater for events which will result in more business for our suppliers.
"This boom in business has also resulted in Suzie and I taking on a 1000 sq foot industrial storage and kitchen unit in Halesfield to cater for the increase."
The Ironbridge Catering Company only uses meat from Buttercross Farm in Market Drayton, vegetables from Maddox in Wellington Market, reclaimed wood from damaged trees for the BBQ from an estate in Newport, staff uniforms from Telford's Fruit of the Loom and printing from Runtime UK in Wellington.
Mr Guerin and his staff spend much of their time towards the end of the year at public events which includes Gorgeous in Coalbrookdale on November 17 and 18 and at Much Wenlock Christmas Fayre on December 1.
To find out the full range of catering options visit www.ironbridgecatering.co.uk or call Kevin on 0800731 8497 or 07980 148 268 to discuss your requirements.