Fire Safety for Nursery Children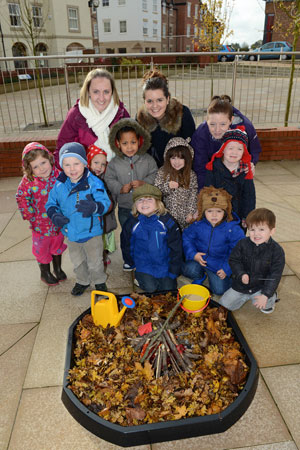 Children at a Telford nursery have been learning how to stay safe as part of their month-long fire safety project.
The youngsters at ABC Day Nursery in Lightmoor were taught the dangers of fire and fireworks in the lead up to Guy Fawkes Night and staff have now extended the project to cover fire safety in general.
Staff at the nursery, which opened its doors in September, built a demonstration fire and showed them fireworks and explained the risk they posed if they were not used correctly.
Penny Hustwick, director of ABC Day Nursery which has nurseries in Wrockwardine, Hollinswood and Hadley, said it was an invaluable lesson to learn.
"A lot of the children live in Lightmoor and were excited about attending the fireworks display here so we thought it was vital they realised how dangerous they could be.
"Children are often fascinated by fire and obviously they are huge fans of Fireman Sam but it is vital they realise the dangers from an early age," Mrs Hustwick said.
"At the same time the children loved being outdoors in the winter weather with the leaves on the ground and building the makeshift fire.
"Whilst learning about fire safety they were also learning about survival techniques and most importantly having fun."
ABC Lightmoor offer places for children from three months to five years and also breakfast clubs, after school clubs for youngsters from Lightmoor Village Primary School and also holiday clubs for children from any school in Telford.
For more information call (01952) 502572 or e-mail abc.lightmoor@btconnect.com