The EP, Eastern Primary, A442, Dawley-Donnington Distributor Road, Queensway. No matter how you know it, you will know that it has been changed beyond all recognition over the past 30 years or so, taking it from a 70mph dual carriageway to a throttled 50mph dual/single in parts carriageway in order to reduce the number of accidents and casualties on this spine that runs across the middle of Telford.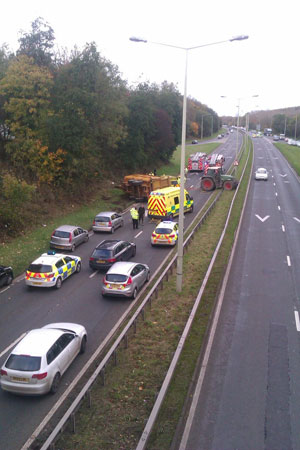 Although the figures provided by the authorities suggest that the works carried out in 2006 at a cost of £620,000 have had a big impact and halved the number of casualties, anecdotal evidence is that the road isn't easy to use and brings out the worst in drivers.  I spoke to a daily user of the road about his findings.
Whoever decided that it was a good idea to have a pedestrian crossing at the beginning of a dual carriageway clearly didn't think it through, particularly when these lights follow another set on the trench lock interchange itself. If those lights are green, people will put their foot down to get through them, with the aim of getting up to speed on the dual carriageway. If the following pedestrian crossing then turns red, the driver is forced to slow down very quickly, leaving potential for accidents.
The whole design whereby the left-hand lane automatically filters off the A442 is flawed, and I have held this view ever since they changed it. The one saving grace is that these filter lanes are clearly signposted. However, they discourage drivers from using the dual carriageway properly. Firstly, it appears that not everyone who uses the road has a concept of distance, meaning that many switch into the right-hand lane much earlier than they need to, as soon as they see the signs at the two-thirds of a mile mark. Some even remain in the right hand lane right from Trench Lock – God help you if you don't have a powerful engine and end up with an expensive German car behind you! This breeds frustration as drivers who wish to overtake are stuck behind someone plodding along in the right-hand lane when they don't need to be there. Alternatively, people don't realise which lane they need to be in until the last minute, meaning that they shit themselves and change lane dangerously, trying to squeeze into a small gap in traffic.
Do you agree? What are your thoughts on this stretch of road?