Review: The Huntsman, Little Wenlock
Situated in the sleepy village of Little Wenlock (population: 350 souls) The Huntsman long had a reputation for good food even before it was taken over and refurbished to a very high standard in the last few years, and long overdue a review visit.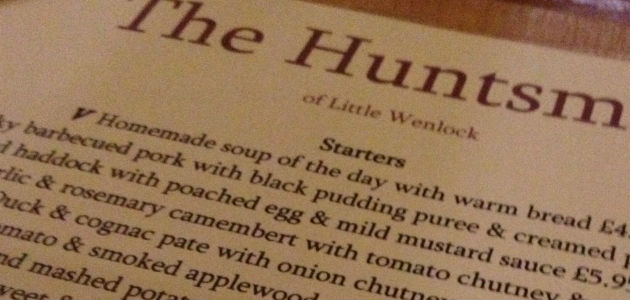 Going to a restaurant in December means that you get to see the true colours of the place. How they cope with large numbers, and a feel for what the atmosphere is like. We parked up and walked into the impressive reception area. This isn't what I expected. A very natural refurbishment using wood and stone, this isn't much like what a village pub feels like. Before anyone goes on about ruining an old building, from my research, The Huntsman was only built in 1964! It's a good, vibrant feeling that would suit a much larger urban setting and I liked it.
The place is spotless, clearly a good team under the direction of general manager John Duncan work hard here and this is clear. From the way the staff are presented, the exemplary greeting we received, I struggle to see how they could improve the front of house. The guy behind the bar asked if we had booked and our name. Without referring to any booking information, he knew how many was in the party. This is how to greet people.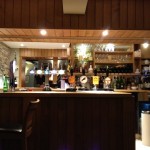 The choice of wine at the bar was good. I spotted a couple of bottles of Dom Perignon in the fridge too, perhaps a tipple of Mark Pritchard MP who lives in the village and has been known to drop in on occassion! We went through into the large open plan restaurant area, laid out formally. I'm guessing this makes it flexible enough to be able to hold functions, although it does seem a little featureless and there are no quiet alcoves or booths.
We took our drinks to the table and placed our orders. Considering the magnificent service we received when we arrived, I was suprised that we were not offered a wine list to select from, although we were offered a jug of water for the table which was well received. Starters range from £5 to £10, and I chose the Crostini. For those who don't watch Nigel Slater, this is cheese on toast, served with a dressed salad. Others in the party had Blinis, and soup. For mains, I went for the intriguing Sweet Potato dumplings served on a bed of minted lentils. I love it when establishments try different things with food and feel like I have to reward this by giving them a go. Others ordered lasagne and sea bass dishes. Once again we were not asked if we would like any sides. Some people don't appreciate being offered exrtas but I think this is a missed opportunity and I'll come back to this later. Mains are priced £10 upwards.
The tables are unclothed and interestingly had paper napkins. When writing a review, I try to consider who would visit a place like this and what the expectations would be. If I didn't, how could I compare a chip shop with a place like this? At this level, I'd have liked a cloth napkin, even if the tables were unclothed, maybe I'm old fashioned!
We were offered bread rolls just before the food came, by our very efficient waitress, smartly dressed in black uniform like all the staff. The starters were served promptly, nicely presented and tasted good. Hard to get enthused about cheese on toast but it filled a hole and the others enjoyed their soup which was served with a warm ciabbata roll.
Once the starters had been cleared away, we waited for the main courses. And we waited. From the time we ordered to the time we saw the mains delivered to the table was around an hour and a half. Now this is not always unwelcome, and indeed one member of the party was appreciative of the gap. Some would say that the delay means you can be sure that the food is being freshly prepared.
When my brace of dumplings arrived, they were set on the square plate diagonally atop a strip of minted puy lentils. Well, I say dumplings. These dumplings were a pair of tennis ball sized filo pastry parcels stuffed with marscapone and sweet potato. I expected a more suet based dumpling in all honesty. The portion size was big, almost too big really, and with nothing else on the plate a single dumpling with some vegetables would have suited better. I'm not a shy eater but I couldn't manage the pair of dumplings, and if it were explained what exactly I was ordering, then I'd have ordered a side, purely for variety. The minted lentils worked really well with the sweetness of the filling though.
The lasagne was served in individual dishes and with a salad. A very nice lasagne I'm told too. Again a generous portion. The Sea Bass was presented beautifully and cooked to perfection, not a hint of dryness. Good quality ingredients showing through.
Throughout the meal we were offered the oportunity to top up our drinks and it's clear that when you book a table, it's yours for the night. No hint of hurrying to turn the tables around for the next diners – very welcome.
We had an enjoyable eating experience. Some minor points detracting from our evening were not show-stoppers, and this is a good place to eat and I recommend that you give it a try. If you have been here, please leave your comments below and share your experience.
The Huntsman
Wellington Road,
Little Wenlock
Telford,
Shropshire,
TF6 5BHT.
01952 503300
http://thehuntsmanoflittlewenlock.co.uk
Full menus are on the really good website.