Ironbridge Antiques Arts & Crafts Centre Campaign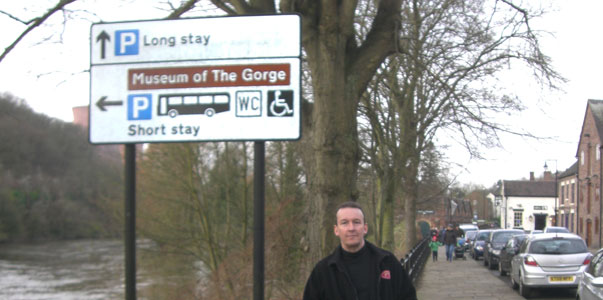 From flood barriers being erected to landslides, it seems like the Gods are conspiring against businesses in the world famous Gorge. Getting visitors from near and far to the huge Ironbridge Antiques, Arts and Crafts Centre has proved a real challenge over the past few weeks, but one small thing the council could help with is  to erect a brown tourist sign to help direct visitors.  Owner Nigel Byard has been campaigning for a tourist sign with little success and we caught up with him this week to find out his story.
Tell us about your business
We run the Antiques, Arts and Craft Centre and Riverside Tea Room tucked away right by the river at the rear of Merrythought Village (some of you may be thinking what or where is that) and have been there since October 2011. We have over 60 different traders who rent space to display their Antiques and locally made Arts and Crafts so we are supporting the local economy and we are open 7 days a week as we believe this is right for a tourist destination and for visitors to the town.
What kind of visitors do you attract?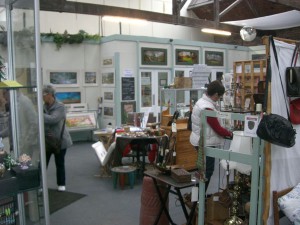 Tourists and locals who do manage to find where we are LOVE what we do and we have built up a steady local customer base (something we wanted as part of our business model) and we know from comments from our customers that they visit Ironbridge specifically to come to us, then go for a walk elsewhere.  We have had visitors who come from Cheshire/Staffordshire/W Midlands to visit us as they like the variety of things that we sell. We are probably the biggest business in Ironbridge outside of the Museums and provide local employment.
Everyone knows where Ironbridge is, why do you need the brown signage?
Our biggest problem is people finding us when they get to Ironbridge and considering that it attracts over a million visitors a year, we believe that the majority don't even know we are here so we asked the council for some brown tourist signs to help visitors find us as we have lots of complaints directed as us from customers about the lack of signage; I always ask them to contact the council to complain to them.
So have you applied for your signs?
This is where the problems have started as they say we "don't meet the criteria" and have refused our application.
Why have you been refused?
This is the information given on the Telford & Wrekin website regarding Brown Signs –  "Tourism signing provides an important opportunity for both tourism businesses and local economies and will be implemented positively and constructively.
There is an advertising element as it helps to generate more visits. The primary purpose is to safely guide those wishing to visit a tourist destination along the most appropriate route for the final stages of their journey, or to indicate facilities that a tourist would not reasonably expect to find in that location.
I want to make a few points in public about this as this is the reason why I want to start the petition.
1)      One of the criteria is you have to have parking facilities – We are right in the middle of 2 car parks
2)      Item 2.1 states a list of likely places that would meet the criteria – historic building, areas of special interest, visitor centres – we meet all of these criteria.
3)      Item 2.4 – Toilet facilities including disabled- we meet all of these criteria
4)      Item 2.3 – These lists are not exhaustive and each application will be judged on its own merits
We actively promote Ironbridge via social media sites, have our own website and we believe we offer Ironbridge something different.
The following businesses around Ironbridge currently have a brown sign.
All of the Museums
The Valley Hotel, top of Jiggers bank and Buildwas Road
Maws Craft Centre – (similar to us but we are much bigger and a some of the crafters there display in our place) This is not always open – we open 7 day a week
Robert Harrop Figurines – A small business in Jackfield – seems to do most of its business online
The Black Swan Public House
The Boat Public House
The Half Moon – This sign was recently approved at about the same time that we were rejected
The Greenwood centre – 2 or 3 signs for this
What I am campaigning for is Brown Signs at the following locations:-
Top of Jiggers Bank (can be joint with Valley Hotel)
Buildwas Road at the bottom of Much Wenlock Road  (can be joint with Valley Hotel)
By the Robin Hood Pub (Joint with Greenwood/Museum Signs)
On the sign halfway up the wharfage directing traffic to the Museum of the Gorge
The Sign should say "Antiques Arts & Crafts Centre"
The council have said they might consider a sign for Merrythought Village but I'm sorry, Merrythought Village will mean nothing to visitors, lots of locals don't even know what it is.
How can people help get your signs approved?
The people who will benefit from this are the 60 traders who display their items and not us directly so I am asking for help by signing the petition below to allow us to have these brown tourist signs and help people find us.
[emailpetition id="1″]