Musical Fun For Parents and Babies in Telford
Well over 20 parents and babies attended the first National Childbirth Trust (NCT) Bumps and Babes session for 2013 to enjoy a singing and dancing session with Musical Steps.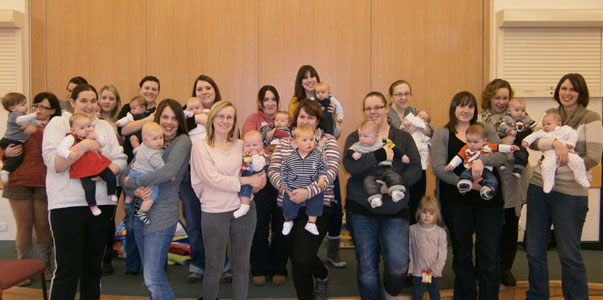 Bumps and Babes, a group for parents with under 1's, meet every second and fourth Monday at St. John's Church, Muxton, providing a vital opportunity for expectant mothers and parents to meet, share stories about their little ones or just chat over tea and biscuits while the babies play. At each meeting a different guest is invited to do a taster session to entertain the babies and parents and a great time was had by all at Monday's (14th January 2013) session dancing, singing and playing musical instruments.
Eleanor Pittam, owner of Musical Steps said 'I was delighted to be invited along to Bumps and Babes to showcase what Musical Steps is all about. The parents and babies were all very welcoming and everyone got involved and enjoyed the session. Its great to be able to introduce music classes to new babies and see them respond.'
Organiser Melanie Boulter commented 'We were so pleased with the turn out for the first session of the year. With the bad weather we were not expecting many parents and babies to come along but we were pleasantly surprised when well over 20 parents and expectant mothers attended and we all had fun dancing around with Eleanor and the babies'
The next bumps and babes session is on 28th January where there will be an introduction to baby signing. All parents with children up to 1 year old are welcome to attend and you do not need to be a NCT member. For more information about the group visit NCT Telford and Wrekin Bumps and Babes on Facebook, follow @NCTbumpsbabes on Twitter or e mail telfordbumpsandbabes@hotmail.co.uk.