There are times when you just shake your head, and times when you hold it high. When Telford is presented in the media this can often initiate such a response, and none more so than the news with launched a thousand retweets that the local dry ski slope closed because of snow.  It's nice and cosy when we have a joke amongst ourselves but when others do it, I shake my head.  If Telford is a crap town, well its our crap town and we'll defend it to the hilt.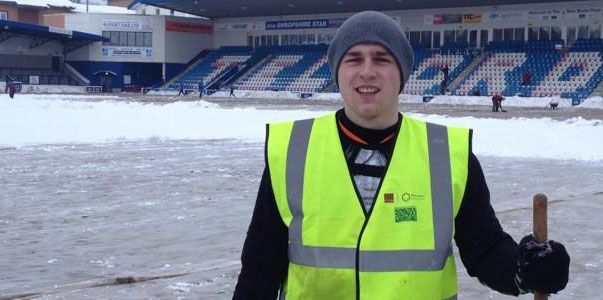 We had a fair bit of snow, buses stopped running, staff were sent home early and roads were treacherous despite the gallant efforts of the gritting teams who worked tirelessly to keep people moving. It's no surprise that the ski slope was shut, anyone who wanted to use it, could have used the hills around to sledge, ski or snowboard for free.  Indeed, one video circulating shows a skier in Coalbrookdale being towed behind a car, water-ski style.
The real snow story this weekend is the one at the New Bucks Head, home of our local fan-owned football team, AFC Telford Utd. A call went out for volunteers to help get the game on, which involved mobilising a group of volunteers to clear a football pitch of six inches plus of snow which lay on top of the frost covers. Pete Jackson, a fan and board member of the trust which runs the club, documented the herculean effort of the fifty or so dedicated fans who turned up and helped.
"We reckon on about 1000 tonnes of snow was shifted which means that the referee was able to pass the pitch as fit to play.  I'd like to thank everyone who made the effort to help us get the game on today' Said Pete.  The community spirit that eminates from AFC Telford Utd radiates through the town, and if you are looking to proud of something in Telford, hang on to that.  This is the true story of the last 48hours, remember this and hold your head up high.
The AFC Telford Utd game against Alfreton is most definitely on, kicking off at 3pm on Saturday 19th January. You can follow Pete Jackson on twitter @pete62jackson .