New faces at Telford Estate Agents
A local family run estate agency based in Wellington announced the appointment of two new apprentices to expand the sales and lettings team.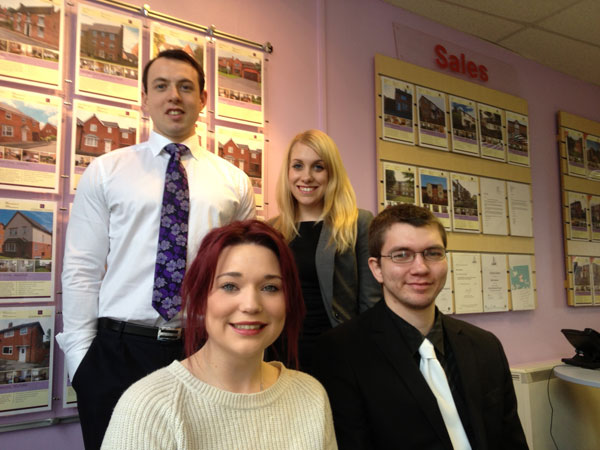 Coleman Estates' for sale and to let boards have been a familiar sight around Telford where the family business has been operating successfully for 15 years.  Max Coleman returned from an estate agency in London to the business to take over the reins from Gill and Jeff Coleman.  As part of their expansion plans, Max Coleman announced that two new apprentices were joining the firm.
"The apprenticeship program gives us a great opportunity to help young people get a chance to show what they are capable of  and to learn from the ground up how the property industry works.  As they are understandably new to the profession, they will have a full year's training  in all aspects of Coleman Estates' operations familiarising them with all of our processes and procedures." Said Mr Coleman.
Bethany Oliver left New College in September and successfully applied for the posts via Matrix Training, another Telford firm. Ms Oliver said "When I saw a vacancy had opened at Coleman Estates, I immediately applied and was delighted when I got the position. They're a well respected company and I'm really looking forward to starting a career in property.  Daniel Edwards was already working one job at a local supermarket but when the opportunity to join Coleman Estates at the ground level presented itself, he applied immediately despite already working over 30 hours a week at his current post. 'I work hard at my current job already but I couldn't pass up the opportunity to get a foot in the door in an industry I've always had a strong interest in' said Mr Edwards.
Max Coleman has wasted no time in getting the new starters into their new roles and Daniel has already been out with Max on viewings, property inspections and checking new tenants into their properties as part of Max's hands on training approach. Max Coleman said 'With all the doom and gloom in the papers about youth unemployment and the economy faltering, it's great to see two local well-motivated and enthusiastic teenagers dispelling the myth and I'm delighted to offer two such deserving candidates a start in an exciting industry. They have made an excellent first impression and are fitting into our office really well. I look forward to working with Beth and Daniel and helping shape their careers for the future.'
See the properties Beth and Dan are helping to market on the Telford Estate Agents site.